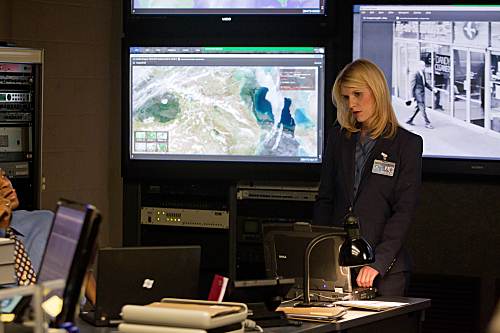 Showtime has announced a second season renewal for its critically acclaimed drama Homeland. The show, based on the Israeli series Hatufim (Prisoners of War), currently airs Sunday nights at 10:00 following Dexter.
Homeland tells the story of CIA officer Carrie Mathison (Claire Danes, Temple Grandin) who becomes obsessed with former POW Nick Brody (Damian Lewis, Life), as she received intelligence from a reliable source that an American POW had been turned by infamous terrorist Abu Nazir (Navid Negahban, Brothers). Once Nick makes it home to his family, she begins tracking him and looking for signs of his newfound allegiance. The show also stars Mandy Patinkin (Dead Like Me) as Carrie's mentor Saul, Morenca Baccarin (Firefly) as Nick's wife Jessica, and Diego Klattenhoff (Mercy) as Nick's best friend (and Jessica's former lover) Mike.
In this Sunday's episode, titled "Blind Spot", the agency sets its sights on Aileen and Faisel, while Brody confronts the lone remaining insurgent that's left from the team that took him prisoner. Check out the promo below.
Have you been watching Homeland this season? Do you think Nick has been turned by Abu Nazir? Where do you think the show goes (story-wise) once we find out if he has been turned?