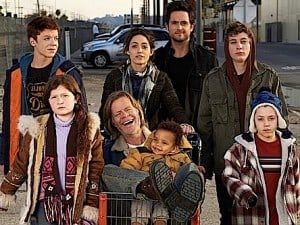 Following the series finale of Weeds last night, Showtime has officially announced the return date for its winter line-up of Shameless, House of Lies, and Californication.
Beginning January 13th at 9:00, the trio of shows will kick off their latest seasons, with Shameless leading off the night once again. When we pick back up with the Gallagher family, Fiona has to come to terms with the fact that she wants more out of her life than what she's got. The Gallagher matriarch may have gotten her GED last season and patched things up with Jimmy, but that's not enough – her ambition will be in direct conflict with her happiness in season three and she'll be forced to either keep going or learn to love where she's at. Helping things along is that Frank ended up in Mexico and has to find out why he woke up there, in addition to figuring out a way home.
At 10:00, we pick things up with the crew from Galweather Stearn, as House of Lies returns for a second season. With Roscoe choosing to live with Monica for the time being, you'd think that Marty would be able to lean on work to fill the void the absence of his son left; unfortunately, The Pod will be dealing with the ramifications of the merger and the arrival of someone new at work. Marty lost custody of his son partially due to how heavily he threw himself into work, but now that he has the chance to do that with little to no ramifications, he might not want to do it at all.
Closing out the night at 10:30 is Californication, back for a sixth season. A novel from Hank will be getting a Broadway adaptation from rock star Atticus Finch, who will be turning a cynical, blisteringly dark piece of literary work into "a rock opera about love conquering all." Hank Moody may be a lot of things, some of them good, but the rock opera type he is not; however, can he put his pride and artistic identity aside for such a good opportunity to get his work (and name) out there to a wider audience? The season will be featuring guest appearances from the likes of Maggie Grace, Jorge Garcia, Marilyn Manson, Tim Minchin, and Sebastian Bach, among many others.
To talk about each of the shows, both their upcoming seasons and where we left off, head over to the TVOvermind Showtime discussion forum.