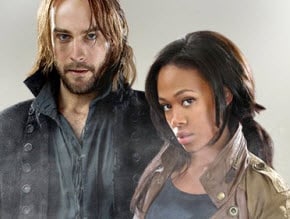 I've heard incredibly mixed things about Sleepy Hollow since its debut, but all in all, audiences seem to love it, and decent ratings have secured it a second season order from Fox. Even stranger is that this demand came before they even ordered the back end of the first season, highly unusual in the industry.
But the numbers were just too huge to ignore. Counting digital devices and play-later DVRs, the numbers for the premiere have been estimated at 22 million, the most successful premiere since 24 in 2001. Numbers have remained competitive, and Fox thinks it has one of the year's first bonafide hits on its hands. Many thought the concept was too bizarre to work, but it's executed in a way that many are responding to quite well.
The other reason is that Fox is ordering a second season instead of a full order of season one is to emulate their cable competition which does the same thing. 22 episodes of a show can be exhausting and cause interest to fade. But keeping season at a tight 10-12 episodes? It's often the perfect way to tell a story, and I much prefer this format. Though for Sleepy Hollow's "monster of the week" concept, it is a bit surprising.
What do you think of Sleepy Hollow? Does it deserve a second seasons already?