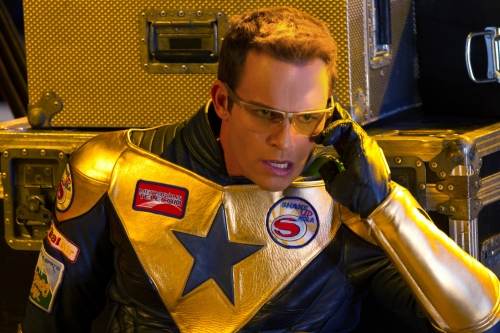 You might be amazed at the Smallville connection with the now defunct Passions soap opera. Justin Hartley, who used to play Fox Crane on Passions now obviously stars as Oliver. His real-life wife, Lindsay Hartley, used to play Theresa on Passions and appeared as as Harriet in an episode this season. Now Eric Martsolf (who used to play the sometimes-boyfriend of Hartley's Theresa on the soap) is appearing as Booster Gold in the April 22 episode of Smallville.
But that may not have mattered much to those of you who weren't Passions fans like I was. In any event, tomorrow night marks a brand new episode of Smallville and the introduction of a superhero from the future who comes to Metropolis to ensure he's turns out more popular than The Blur. He's a complete attention whore – posing for photos after saving people, and trying to convince reports, including Lois, to write stories about him.
Lois, meanwhile, tries to create a solid divide between Clark and his alter-ego, The Blur. He's starting to look more and more like the Clark Kent we know from the movies and other Superman shows, glasses and all.
Smallville Executive Producer Brian Peterson introduces the new characters in the preview below from The CW, as well as talks a bit about Clark's struggles in the upcoming episode.
When you're done watching the preview, go take a look at promo photos for the episode and a trailer.

clarissa @ tvovermind.com
twitter.com/clarissa373
twitter.com/tvovermind