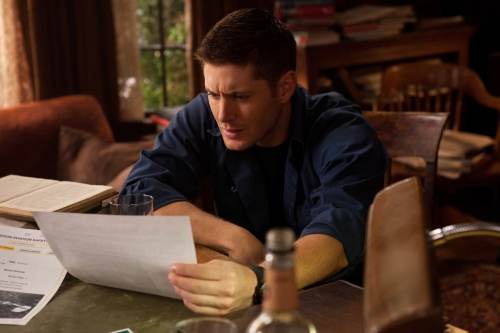 I bet the internet thought that it had experienced all the anger that rabid fans had to give when it was announced that a new Buffy movie was being produced without any input from Joss Whedon.
Then, this afternoon, The CW announced that the midseason premieres of Smallville ("Collateral") and Supernatural ("Like a Virgin") had been postponed a week to February 4. And the rabid fangirls (and fanboys!) went nuts.
The promotional machine for Supernatural in particular has been ramping up, with bloggers getting an early look at the midseason premiere episode, which is something that's rarely done for the show (you can read our advance review). But now it appears that The CW intends to air repeats of The Vampire Diaries ("The Descent") and the Nikita ("Free") midseason premiere on Friday nights in order to let the two shows have their moment in the sun, since they'll be airing against American Idol tonight. Apparently there's also the fact that some local affiliates would pre-empt one or both of the CW shows airing tonight, so this would allow a repeat.
Rest assured, Supernatural fans, this is not an attempt to see how well Vampire Diaries or Nikita perform on Friday nights. The likelihood of Supernatural being signed for a seventh season is very good, and chances are it will remain on Friday nights even when Smallville ends its ten season run this spring, as the show has been doing very well on Friday nights.
The new schedule is as follows:
Thursday, January 27
8:00 p.m. The Vampire Diaries ("The Descent") – NEW
9:00 p.m. Nikita ("Free") – NEW
Friday, January 28
8:00 p.m. The Vampire Diaries ("The Descent") – repeat
9:00 p.m. Nikita ("Free") – repeat
Wednesday, February 2
8:00 p.m. Smallville ("Icarus") – repeat
9:00 p.m. Supernatural ("Appointment in Samarra") – repeat
Friday, February 4
8:00 p.m. Smallville ("Collateral") – NEW (watch a sneak peek & view promo photos)
9:00 p.m. Supernatural ("Like a Virgin") – NEW (watch a sneak peek & view promo photos)
UPDATE: On the up-side, this delay means a shorter hiatus for both shows in April. I know, it's not much comfort, but I'm trying to look on the bright side here! The schedule for new episode is as follows:
Feb 4: new episodes
Feb 11: new episodes
Feb 18: new episodes
Feb 25: new episodes
March 4: new episodes
March 11: repeats until April (specific date TBA)
clarissa @ tvovermind.com
twitter.com/clarissa373
twitter.com/tvovermind