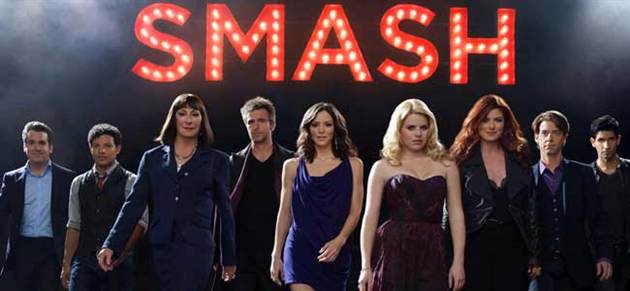 Smash is a show about the making of a star. Premiering tonight on NBC, Smash is also a show about the making of a Broadway musical – including the hopes and dreams of those trying to make it big and the back-stabbing that occasionally goes on behind the scenes. But lest you think Smash is all about the business of Broadway, rest assured that it's got heart, which is conveyed through song and the relationships between the characters.
Some big names are attached to this new series, including EP Steven Spielberg and the producers of Chicago and Hairspray. Experienced choreographers and composers have put together the impressive song and dance numbers that appear throughout each episode. There is a great deal of talent behind and in front of this show and it is one of the best new pilots of the 2011-2012 season.
Don't listen to anyone comparing Smash to Glee. There is such a marked difference between the two shows that any comparison is not worth listening to. Beyond the fact that both shows are essentially musicals, they couldn't be more different. Smash is a far more adult look at what it takes to succeed in a difficult business and takes place in a world where grown-ups are grown-ups. This level of drama and maturity is not always seen on Glee, which is perfectly acceptable since that's not really what Glee is about. Also, if you're a bit frustrated lately with Glee's lack of continuity about storylines and characters, rest assured that the quality of the story in Smash is superior.
To help get you ready for tonight's premiere, we've put together a handy character guide to introduce you to all of the players in Smash. Keep clicking the arrows below to browse through our gallery of the main characters. The final page contains sneak peeks for the premiere.
Smash debuts at 10:00 p.m. EST tonight on NBC.