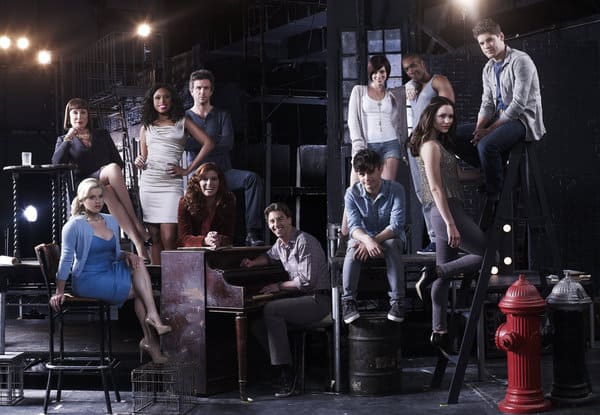 The Smash producers have heard the fans' complaints during the first season and have taken steps to make the show better for its upcoming second season.  A new showrunner (Josh Safran, Gossip Girl) was brought in and four characters were given the axe: Dev, Ellis, Frank and Michael.
Safran said that there will be more original songs and musical performances in the second season.  "It's still is same Smash: it's bigger, there's more music, it's maybe younger in some regards — with new cast members," Safran said.
Here's what to expect in the first few episodes of season 2:
Ivy vs. Karen 2.0.  The rivalry between these two leading ladies is not over.  Karen may have won the coveted role of Marilyn in Bombshell, but she's distracted by Ivy's continued presence in the show and still feels threatened.  Derek is determined to do whatever it takes to make Karen feel comfortable and Ivy is let go from the show.  But an opportunity presents itself that may give her a spot again.
Eileen's Money Troubles.  It turns out that the money collected by Eileen's bartender boyfriend and his friends isn't very clean and when the government gets wind of it, they freeze the show's assets, threatening its chances of making it to Broadway.
New Talent.  The Bombshell hiatus leads Karen to a new discovery: the writing team of Jimmy Collins and Kyle Bishop.  It turns out these Brooklyn bartenders have been writing a musical and Karen thinks she's the person to help them bring it to the stage.  But Jimmy has a chip on his shoulder and has no interest in getting Karen's help.
Julia's Funk.  The reviews from Bombshell's preview run were favorable, but one person got harped on a lot: Julia.  It turns out that Julia's song lyrics were praised, but the rest of the storyline in the musical was pandered.  Couple this bad news with her recent divorce and Julia is going through a serious funk.  Can Tom pull her out of it or is their partnership doomed?
A New Star.  Jennifer Hudson also joins the cast in a recurring role in the season premiere as Veronica Moore, a Tony Award-winning Broadway star who tries to teach Karen about the fame that awaits her on Broadway.  Hudson is a powerhouse singer that is a terrific addition to the new season.
NBC also announced that the 22-song cast recording of the complete Bombshell musical (from seasons 1 and 2) will be released on February 12.  Watch a new preview below for the February 5 two-hour season premiere of Smash at 9:00 p.m. ET/PT on NBC.
https://www.youtube.com/watch?v=8fcrkxW3OYQ