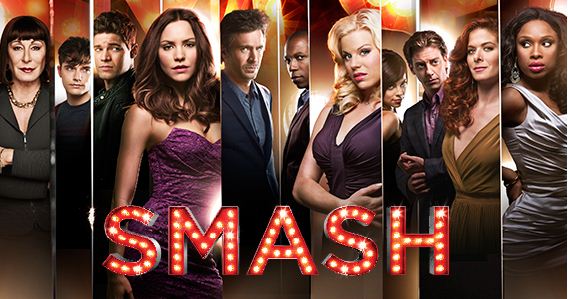 The Broadway musical-within-a-show series, Smash, will be returning with a brand new season in a two hour premiere in early February.  The show started out strong and then sort of faltered under its own weight with unnecessary drama and storylines.  But there's been a lot of creative retooling being done between seasons, including the departure of four characters: Ellis (the producer wannabe), Frank (Julia's husband), Dev (Karen's boyfriend) and Will (Joe DiMaggio).  Not only that, but a lot of new faces are being introduced, including Jennifer Hudson as Veronica Moore, a Tony Award-winning Broadway star who impacts the lives of Karen and Ivy and Sean Hayes (Debra Messing's former Will and Grace co-star) as Terrence Falls, the star of a rival musical.
When Smash resumes, the Boston preview of "Bombshell" has gone well, pleasing the producer, director and writers of the show.  Now it's a race to Broadway and a struggle not to get bogged down by distractions.  Will Eileen be distracted by her shady business partner/boyfriend Nick?  And will Ivy be able to bounce back from the shame of losing the part of Marilyn to Karen?
Watch a preview below and don't miss the season 2 premiere of Smash on Tuesday, February 5 at 9:00 p.m. ET/PT on NBC.
http://www.youtube.com/watch?v=kUEvTZvJDf0