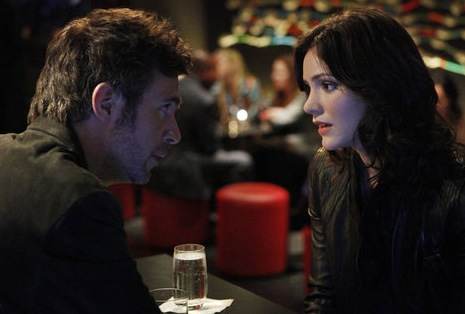 In case you missed the news, Smash has already been renewed for a second season by NBC. But that doesn't mean it's smooth sailing. In fact, there is a lot of fallout from the recent workshop presentation in the upcoming episode.
First, it looks like Derek reaches out to Karen to record a new song…by a new songwriter. Is he trying to take the project away from Julia and Tom? Let's just say that when Tom, in particular, finds out what Derek has done, he is absolutely livid. Even more than that, Tom finally reveals the reason he hates Derek. It turns out that over 10 years ago the two had a falling out when one of their shows went back and Derek apparently went around bad-mouthing Tom.
Meanwhile, Eileen's daughter comes to town just as she appears to have some downtime, which forces Eileen to face her ex-husband, while Ivy remains in the dark about her fate in the Marilyn musical.
Watch two sneak peeks below for the March 26 episode of Smash, airing at 10:00 p.m. ET/PT on NBC.