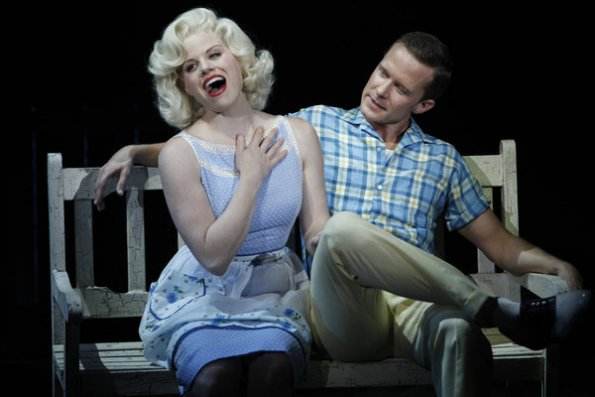 Last week's episode of Smash ended with a somewhat unexpected development. Despite the show pushing Katharine McPhee's Karen as its star, Megan Hilty's Ivy won the role of Marilyn, at least for the workshop portion. Of course, none of this is necessarily permanent so it's very likely that the girl playing Marilyn may change in the future. But right now Megan is flying high as the star of the show.
What will happen to Karen? Well, Derek will be approaching her about a part in the ensemble, as we can see in the trailer for tonight's Smash below. Who wants to bet that Ivy will feel threatened with Karen still hanging around?
Plus, Tom and Julia will learn about Ivy's recent dalliance with Derek. Tom is upset about the whole situation, worried that Derek might be taking advantage of his friend, but Julia wonders if the situation works more to Ivy's advantage. Eileen will continue to fight with her soon-to-be-ex-husband about funding for the Marilyn musical.
Finally, the search begins in tonight's episode for an actor to play Joe DiMaggio. Who will be chosen as the male lead for the musical? Choices will be shown tonight.
Watch the trailer and three sneak peeks for tonight's all new episode of Smash below, airing at 10:00 p.m. EST on NBC.