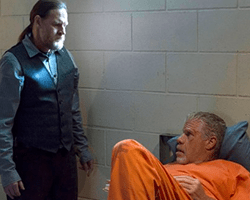 It feels like its been a long wait for the new season of Sons of Anarchy. At the end of the last season, lots of stories came to an end, but new ones opened up. The club was shattered worse than ever before, with Bobby resigning as the vice president, Juice's status in question, and Clay being arrested for a murder that he didn't commit. The biggest cliffhanger we were left with was Tara's arrest for her hand in Otto's outburst at the prison.
The sixth season premiere, "Straw", takes place only a week after those events, and after the obligatory opening voice-over by Jax (and a mysterious look at a blond boy, who will become very important later), Sons shows us where the major players are by way of montage: Tara and Clay are both (expectedly) in jail, Chibs is the new VP of SAMCRO, and Jax and Gemma are raising the boys with some help from club member Happy.
Lee Toric, the US Marshall introduced last season, continues his quest for revenge on SAMCRO. First he's seen torturing Otto (Hasn't Otto been through enough? Seems like things get worse for that guy every time we see him), and then trying to work Clay and Tara. To Clay, Toric offers protection from his multitude of enemies in the prison system. In exchange, he wants Clay to turn on SAMCRO. Later in the episode, when Clay is faced with these enemies in gen pop, he can't help but cave to Toric's offer. We'll have to see how it goes, but it's clear that Clay's position behind bars isn't going to prevent him from being a key player in the future of the club.
Toric tries the same thing on Tara, but unlike Clay, she flat out refuses. It's a terrific development for her character, and when she tells him off ("I'm innocent, and I'm not a rat.") it felt like a triumph. Even though, logically speaking– it's anything but. She's falling deeper and deeper into the criminal world. A development that explodes at the end of the episode, when she assaults another inmate. Tara's long been one of the most fascinating characters in the series because of her position on the edge of the club without being ingrained in the criminal lifestyle. Seems like she's finally landed on one side of that line, and I'm excited to see what's in her future.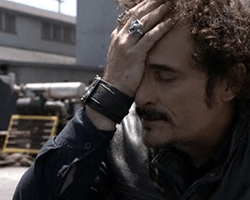 Meanwhile, Layla (Remember her? She's one of the working girls at Caracara and was romantically involved with Opie) has been the victim of a brutal assault. Seems that she signed on to do some work in an adult video, but the producers of the video didn't tell her what she signed on for. She appears with bruises, cuts and burns, spurring SAMCRO and Nero's guys into action. Of course it leads to a shootout.
The best thing to come out of this scene, to me, was Tig. Tig's always been one of my favorite characters on the show (maybe even at the top of that list) because there's just so much going on with him. A lot of the time, his sociopathic tendencies make him a source of comic relief–even if it's very dark humor. But at the same time, he's a deeply troubled man. Especially after the events of the last season, when his daughter was burned alive in front of him. He's been messed up ever since (well, more messed up than usual), and when the Iranian made the poor choice of insulting the man's daughter, Tig exploded, drowning the man in a tub of very yellow urine. The violence here, as over-the-top and sensational as it might seem to us, was cathartic for Tig: as he unzipped and added his own stream on top of the dead man, his face was full of complicated emotions– primarily one of temporary relief. He killed Pope at the end of the last season, but that wasn't enough. I get the feeling that Tig's need for vengeance for his daughter will never be fulfilled, and the hopeless agony on his face after dumping the body was breathtaking. This man has a lot going on inside (Kim Coates needs an award for his role in this series– Tig has such a wide range of emotions and he pulls them all of wonderfully).
But I can't talk about Tig forever (as much as I'd like to). He might be the most interesting character in the series, but his personal demons are not the main story. The primary plot line for this season appears to come out of the other repercussions of the shootout: Jax and Nero meet up with a crooked ex-cop, who in turn sets them up with a madam, Colette Jane, who is looking to make a change in her business. Naturally, she ends up partnering with Jax. In more ways than one.
Jax is in a bad place, emotionally. He appears to be keeping it together, but everything's falling apart for him– and the worst part of this is that everything's been falling apart for a long time, and it doesn't show any sign of getting better. The club is in a worse position than ever before, and as much as he wants to distance himself from Clay, his actions– like making decisions without bringing them to the club first– bring him more and more in line with the former president. On top of that, for the first time, he doesn't have Tara. She's been his rock for a long time. Dealing with all the stuff that he's had to deal with has been easier because he was able to come home to Tara. Now, not only is she behind bars, but she doesn't want to see him.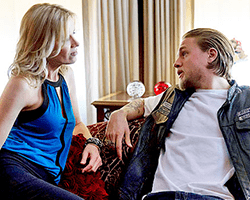 Things are unraveling for Jax, and it isn't surprising to see him fall into Colette's bed. On one hand, he's cheating on Tara, which some people might find reprehensible. But Jax needs that comforting touch, and Colette has a familiar charm that makes her feel safe. Where this relationship will go is up in the air, and I doubt it will be good in the long run, but Jax's need for comfort is understandable and believable.
Now let's dive into the big scene that everybody's sure to be talking about. The school shooting.
Throughout the episode, there was a mysterious blond kid who showed up here and there. He's the son of one of Nero's guys, but nothing about him is known other than that. Until the very end of the episode, when the boy calmly sits down on a bench in front of a catholic school. He takes off his jacket, rolls up his sleeves– revealing scars on his forearm– and withdraws a machine gun from his backpack. The scene had a real sense of importance that was wonderfully done. It was slow, meticulous, and quiet in a way that's reminiscent of Breaking Bad. The shooting itself (which tastefully occured off-camera) and its aftermath was chilling.
There will probably be some sort of outcry among viewers that this was sensationalism, or that it was in bad taste. But honestly, I think that it was very well done, and I trust the Sons writers enough to believe that there's a meaning behind this. Jax and SAMCRO are arms dealers, and they gave those guns to Nero and his guys. Jax is indirectly responsible for the shooting, and I'm sure that this will weigh on his already heavy conscience.
Especially since there's sure to be a police investigation into where the boy got the gun.
Overall, I loved the episode. It's hard for me to not love an episode of this show– it's one of those high quality dramas on television today that seems to get better every season. We're nearing the end of Sons of Anarchy (Kurt Sutter plans for the seventh season to be the final one), and it feels like it. Big things are being set in motion: I love a show that feels like it has an endgame in mind. I can't wait to see what this season has in store for us.
What did you think about this season's premiere? Did it live up to your expectations? Share your thoughts in the comments.
(This is my first review for this website, and I'll be covering Sons of Anarchy every week this season. Don't worry– I don't expect the other ones to be so long. This one is the premiere, after all. Let me know what you think of the review in the comments, and what you'd like to see in the future. Feedback appreciated.)
Worth Mentioning
Lee Toric is one messed up dude. That scene with the heroin and then the nakedness in the mirror? Donal Logue brings a lot of pain to this role, more than I would have expected after his few scenes in the previous season. Gotta keep an eye on this guy.
The opening sequence wasn't until sixteen minutes into the episode. Is that a new record? Sons isn't one to shy away from extremely long openings, but at this point you gotta wonder why they even bother including the title sequence.
"Persia hasn't been a country since 637AD. They're called Iranians."
Got a chuckle at the "Uncle Touchy" nickname for Unser, or more accurately, his exchange with Gemma about it.
The guy who helped Bobby with the refrigerator– he's new, right? He said that he was formerly a nomad, and later on Juice mentioned that the nomads were disbanded. I'm interested in seeing how this comes into play.
Kim Dickens? Yes please! How many more Deadwood cast members can we get on Sons of Anarchy? It'll never be enough for me.