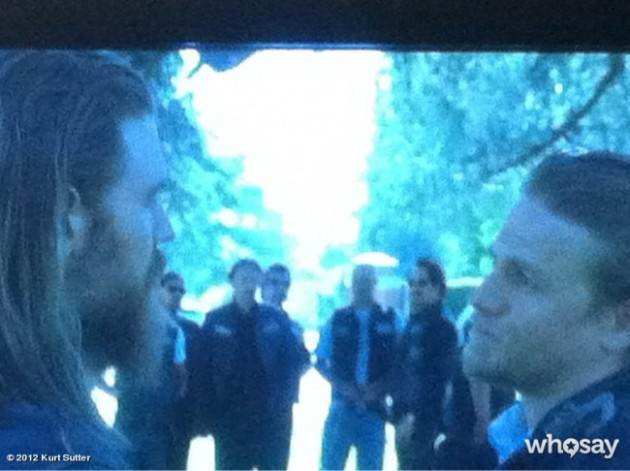 Sons of Anarchy show-runner Kurt Sutter has teased the first still from Sons of Anarchy season 5 filming. Looking very much like a phone cam shot of an editing monitor, Sutter dubs the snap "In post in 501. Jax and Op. family outing." Sutter announced the pic via his Twitter (@sutterink) and posted it on his Whosay. (He also has an Instagram account, this is a show runner that knows his social media).
The shot is a lot more revealing than it might seem, at least when it comes to working out the possibilities. We see Jax and Opie squaring off, with the rest of the family watching intently from a distance. If you recall, Jax is now president of the Sons of Anarchy and he wanted Opie for his Vice President, but Opie never showed up at the chapel for the restructuring. As little as the pic tells us, it screams with implications. Did Jax choose someone else? Has Opie in fact accepted the role of Vice President? Will Opie be able to even sit in the same room with Clay knowing that he killed his father?
In another pic on Sutter's Whosay he revealed the title of the Sons of Anarchy season 5 premiere to be "Sovereign". The title seems to imply that the premiere will be appropriately occupied with Jax's adjustment to the seat at the head of the table. In a wider scope it could also deal with other forces exerting their control both in front and behind the scenes. Given the current climate, it wouldn't be surprising to see Clay try to plot an insurrection. Considering how necessary he is to the greater good, and his gift for subterfuge, Clay could certainly be a threat to Jax's position if he wanted to be.
Sons of Anarchy fans should be sure to keep an eye on Sutter's numerous social media accounts for more teases. Something tells me he is just getting started.