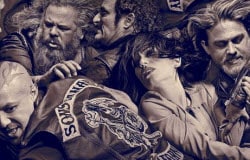 All this morning I've been reading headlines like the one above, so I decided to sit down with my DVR and finally catch up with last night's Sons of Anarchy premiere before I accidentally ruined the episode for myself.
All through the episode, I was wondering what this moment was, as the show has seen countless "shocking" moments previously. I thought a major character might day, maybe Tara. I thought it might be when Tigg drowns an Arab in a tub full of urine. But no.
Rather, it was the actions of a little boy, one who appears around the episode looking like a child-sized ghost of Jax Teller. But he was very real and I have a feeling his actions are going to shape the rest of the seasons.
Turns out he's a kid with deep emotional problems, as evidenced by his scarred arm and notebook full of death and destruction. He shoots up his catholic grade school and it's about to be a nationwide tragedy.
So, what does this have to do with the Sons of Anarchy? You may have left the episode wondering that, and it took me a few minutes to put it all together.
The kid is the son of Dave Navarro and his wife/girlfriend. I don't know his character name, but Navarro is playing a member of Nero's posse. The gun the kid used is a Tec-9, a long-illegal weapon, the kind that only street gangs use.
The Sons gave Nero's crew a bunch of their weapons, as seen in the "previously on" scenes this week, which are more important than usual. In short, when the police trace where he got that kind of weapon, they're going to trace it back to the Sons. Big, big problems.
It seems a little out of the blue. Like the Sons don't have any huge problems at the moment so the show had to throw in a random event like this that hadn't been set up at all beforehand. But I suppose that's how life works.
As for the school shooting being "too far" for the show, I don't know. Plenty of other shows have dealt with school shootings, and Sons has had plenty more "shocking" moments than this one. Obviously it's horrific, but for the Sons, I don't know if it's their top ten of shocking moments.
Where do you think this season is heading?