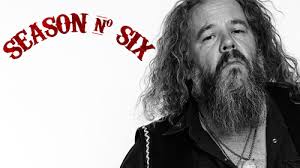 People who like this show, LOVE this show. Sons of Anarchy is unlike any other show on TV in the sense that you pretty much get to ride along with the bad guys. And though we have shown you a (incredibly cool) teaser for season six, much about the details of the season were still hush hush. But now we can tell you, after seeing some of the footage from the new trailer that dropped today, that this season looks like it is gonna be out for blood.
Though the buzz for the first episode is through the roof, with people hinting that a major character will die and that the violence will be more gritty than anything the show has produced so far, this trailer is only adding to that buzz, showing us that some minor characters we really dig may be getting more predominant positions in the Sons of Anarchy gang, so that excites us. And we even get more of the "women behind bars" plot, which has us excited for entirely DIFFERENT reasons.
Okay, enough speculating, see for yourself:
Also, I know this seems totally unrelated, but that is easily the best use of a Nine Inch Nails song since the 300 trailer.
One thing people can say about Sons of Anarchy is that it is never less than intense, and this forthcoming season looks to take that to new levels.