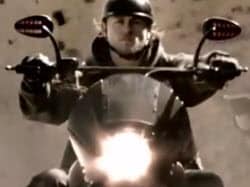 There's new spot out ahead of this fall's Sons of Anarchy premiere titled "Mayhem," that follows in the footsteps of its first short ad, depicting the gang in a state of chaos. The first spot had them all brawling with each other, the second has them driving past an exploding series of walls with Clay, Gemma and Tara painted on them.
What does it all mean? The idea that one of the characters may die this year is out there, and it could be relative soon. Here's Kurt Sutter speaking about the premiere:
"I feel like if it gets leaked, it's going to be like, 'oh, they're doing it to be controversial to bring more eyes to the episode,'" Sutter said. "Honestly, I'm worried more about that kind of blowback than people finding out about that event."
So, what does this mean? Gemma's gang rape was probably about the most controversial early episode I've ever seen of the show, and the only thing that I think could top it would be a major character death. If I had to place bets, I'd say it would be Tara biting the bullet. The Clay-Jax conflict is just too important to abandon, and Gemma is too good of a character. Tara, however, always seems to be getting in the way, and her death would fuel Jax to go crazy, which is probably something the show wants.
However, they did already do a whole plotline about Tara being stalked and hunted by Clay's hitmen, so that would be odd to have her die now. And also we should remember that Clay is the one with the most obvious target on his back after Jax framed him for Pope's death.
Watch the spot here: