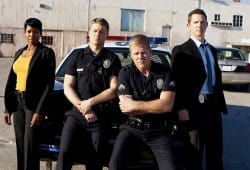 Southland returned for a fifth season last night and proved yet again why it is not only a show that was worth saving, but also a show that probably has a good chance of staying on the air for several more seasons.  The energy level of the premiere simply rose above the standard cop show fair both in terms of the dramatic situation and the intricate character work among a cast that is so well in tune with one another that they have achieved a dramatic balance that can only be earned with time.  Southland is better for every year it is on the air.  Period.
You could easily attribute its success to its formula, which borrows heavily from some of the most durable templates out there like Dragnet and Naked City, but Southland also carves out new territory with its bold contemporary honesty, telling the hard truths of the street with an unflinching eye on the urban jungle.  The premiere stayed true to this template, taking us on a tour of inner city madness and keeping it fresh along the way.
On the character side of things, we reconnected immediately with the struggles left behind from last season.  Lydia, played by Regina King, is coping, if that is what you call it, with single motherhood with a new infant and a mother doing her best to help while officer King continues to risk her life chasing down the baddies.  Naturally there is reflection and guilt tripping over this.  King is tough, she's not going to change her life, but it is clear to see that despite her efforts to stay true to the badge her new role as mother will change her, whether she likes it or not.
Michael Cudlitz's Officer Cooper also has a kid problem.  His boyfriend is pushing hard for the couple to adopt and Cooper is not even remotely ready for fatherhood.  This is of course an aspect of Southland that elevates the boldness of its narrative.  It's hard to say whether this plotline would be taking place had Southland stayed affixed to the primetime mantle.  Certainly, it would have been played out with more muted tones.
 Other characters that got screen time included Ben Sherman who was, as usual, dealing with how stunningly handsome he was and fighting back advances by the dozens.   And the ever sullen and troubled Sammy, who is still locked in battle with his Ex Tammi.  This is a plot line that just never gets old due mostly to the performance of Emily Bergl as Tammi.  She adds such a burning zing to everything that Tammi says or does that you can feel the scorch. The premiere featured a guest nod from One Tree Hill alum Chad Michael Murray that fans of both shows are sure to find memorable.
As far as the requisite set pieces, the Southland premiere had some great ones.  The overarching case went into some tricky territory with a young man who was raped.  His pride prevented him from complying with most of the measures the cops would employ on a rape victim, but the crime also highlighted how unprepared the system was to deal with that sort of role reversal.  It was uncomfortable to watch and yet at the same time you had to marvel at how the Southland writers were able to prevent it from falling into the clutches of comedy. Not that I think it is funny in any way shape or form, but it is a subject that is so unique that if it were mishandled in any ways aspects of it could have evoked some very inappropriate nervous chuckles.
So if for that reason alone, I have to say the premiere of Southland went places where other programs would definitely fear to go, and accomplished them in ways that perhaps only the Southland crew is capable of.  I fear for the fact that Southland is up against The Americans, I think that is a highly competitive timeslot and The Americans is getting a lot of well-deserved attention, but Southland definitely deserves to be a close second for your live viewing choice.