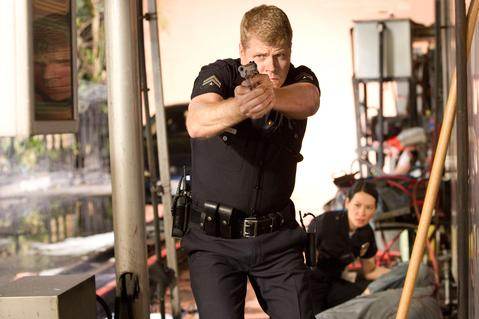 Almost two months after completing its most recent run, TNT has officially renewed critically acclaimed cop drama Southland for a fifth season. Set to begin next February, season five will consist of 10 episodes that follow Sammy (Shawn Hatosy), Sherman (Ben McKenzie), Cooper (Michael Cudlitz), and Lydia (Regina King) through the streets of Los Angeles as they investigate (and solve) crime.
There had been talk of expanding the episode order for Southland from 10 to 13, but for now, at least, the number of installments is staying put. The show, famously dropped by NBC before landing at TNT in 2010, went up in the ratings during its most recent season, a rather impressive feat considering how crowded its Tuesday timeslot was for much of its run.
Going into season five, Lydia won't be as involved in the grueling side of being a detective, thanks to her pregnancy, while Cooper has to adjust to a new partner after Tang's transfer, Sammy recovers from a car accident, and Ben is forced to come to terms with how much the job has changed him. And this being Southland, you know Dewey's not too far behind, likely with a crude remark or tall tale ready for his fellow officers.
Considering the amount of change during season four, there's likely to be a casting announcement later this year of another officer to join the force. With Sammy and Sherman enduring the typical partner growing pains and Lydia finally finding partner stability with Reuben, Cooper is the lone regular without a partner following Tang's betrayal and subsequent departure. But the question is: is there anybody tough enough to handle riding along with Officer John Cooper?
Are you ready for more Southland next year? What did you think about season four, which wrapped in March? Should the show bring in anymore officers?