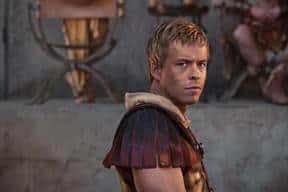 Gaius Julius Caesar was personally selected by Marcus Crassus to join the fight against Spartacus and the rebel army on Spartacus: War of the Damned. Due to his battle experience and unkempt appearance, he could slip into the rebel encampment and both gather information and subtly pit the two sides against one another, increasing the chances of a Roman victory. With the rebel generals split on how to approach the coming conflict, there was an opportunity for Caesar to do some real damage to the once unbeatable group of former slaves, securing a proper amount of glory once the conflict was over. But what if he didn't get everything he wanted from his time undercover?
On tonight's episode of Spartacus: War of the Damned, airing on The Ides of March, Caesar has not seen the type of reverence given to the risk he took in living with the rebels for as long as he did. Last week, he might have gotten wine and women for his troubles, but the one thing he desires above all else is power, power that has now been taken away due to Tiberius' elevated rank. The boy, once reduced to the level of a common soldier, has impressed the Imperator enough to where his full rank has been restored, putting him above Caesar. Though Caesar could swallow his pride and accept his newfound standing within the Roman army, he won't be happy that someone who he feels didn't earn their promotion is now technically above him, especially since Tiberius won't hesitate to lord it over his rival at any opportunity. Could their conflict reach a head on a notoriously bad day for the future leader of Rome?
Spartacus: War of the Damned airs tonight at 9:00 on Starz. You can check out four sneak peeks and an additional preview of the episode here.
How will Caesar react to actually losing ground following his stint undercover? Is he going to plot against Tiberius in order to regain what he once had? If he does and Crassus finds out, will that be the end of their friendship and working relationship?