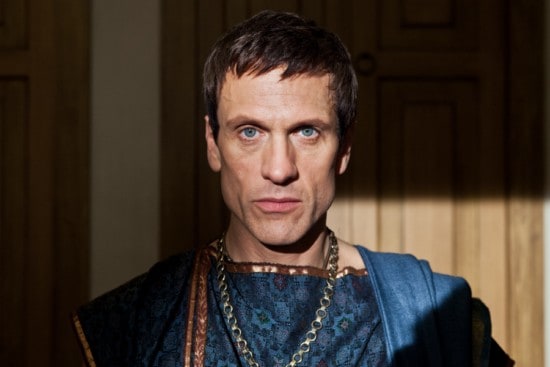 Now that the rebels have taken Sinuessa en Valle on Spartacus: War of the Damned, their mindset turns from attack to defense. They have the means to house themselves and a fair amount of supplies, but the city is in a prime location and near enough the water that anyone coming on shore could see it fit to either attempt to take or test the limits of their military power. Of course, Spartacus and his band of warriors have done nothing but fight since they emancipated themselves from their lives of servitude, but are they ready to become the hunted rather than the hunter?
On the next episode of Spartacus: War of the Damned, the rebels are paid a visit by a group of pirates, a group whose leader claims to have an arrangement with the aedile. While their leader may flatter Spartacus upon arrival in Sinuessa en Valle, there's a danger lurking with an equally violent group of men within the city limits. Though the rebels could dispatch them and raid their remaining supplies, the leader of the pirates has proposed a deal that would result in additional resources for Spartacus and his army. How long will he allow them to remain in the city until their threat has to be neutralized?
Elsewhere on Spartacus: War of the Damned, Tiberius is out in the battlefield for the first time, which means that any naiveté that he had about the experience and the world itself has now been lost. After watching Caesar split someone's head open down the middle, he can't go being to being the eager man-child he was before; who will Tiberius emerge once the battle becomes more intense? What kind of man will he be by the time that he has to face-off with Spartacus?
Spartacus: War of the Damned airs Friday at 9:00 on Starz.
Should Spartacus make the deal with the pirates, if only to get resources for his people? Is it a wise idea to keep a band of marauders within your walled city, supplies or no supplies? How will Tiberius respond to being in battle and interacting with Caesar?