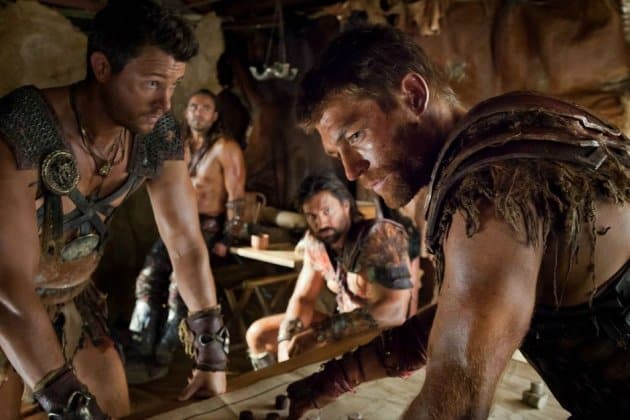 At the end of last season of Spartacus, the rebel army was on the highest of highs. Although they lost their fair share in battle, including valiant Oenomaus, they managed to defeat Glaber's men and prove that their movement was real. Had they been forced to surrender or been obliterated by the better equipped Romans, their cause would have died a quick death and slaves around Europe would have lost hope of freedom once and for all. But for now, there's an air of change hovering throughout the land, which will only strengthen the rebel numbers and prepare them to handle their greatest challenge yet.
Spartacus: War of the Damned finds dissension permeating the rebel ranks; specifically, Agron and Crixus are at odds over their role in the camp, with the former feeling as if he's being underutilized by Spartacus and the latter having to keep their leader focused on their goal. The army have already done the unthinkable in taking out Glaber and sending a message to all European elite that they're to be taken seriously as a fighting force, but now, they're having trouble in getting on the same wavelength and figuring out how to go about tackling their latest threat. While the main four warriors have been on different pages before, they tend to fall into line when it comes time to fight, but will they be able to pull themselves together this time?
Meanwhile, their opponents are teaming up to compensate for their respective weaknesses. Marcus Crassus has seemingly unlimited resources and a desire for military glory to boost his societal status, but he's never been much for violence and surely couldn't lead an army on his own; a young, wild-eyed Julius Caesar is aggressive and fearless, a man whose power could be harnessed into becoming a tremendous warrior, but he doesn't have the opportunity to go into battle. Combine the two and you have the toughest threat the rebels have encountered and one that, should they not straighten out their internal strife, will be their ultimate undoing.
The final season of Spartacus premieres Friday, January 25th at 9:00 on Starz. You can check out the final Spartacus Comic-Con panel here, as well as a tour of the War of the Damned set here and an additional teaser for the season here.