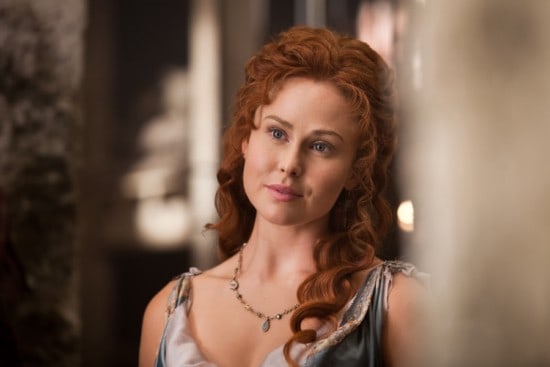 What can get lost in the battle between Spartacus and the Romans is why it began in the first place. All the attention and focus from the rebel army has been on bringing the Romans to their knees and raining vengeance on the men who held them captive for years upon years. While they have mentioned that their ultimate purpose lies not with themselves but with those like them who cannot yet be free, it might take seeing the way that other slaves are still living for them to be reminded of why they continue to risk their lives in battle.
Tonight on Spartacus: War of the Damned, Spartacus and his men have infiltrated a town, only to find a slave chained against a wall and preparations being made for his stoning. Residents of the town are adamant about the slave sneaking scraps of food for a journey out of town to join the rebels; though not every person in town feels the same about what should be done, the ones in power have already ruled and the slave is to die to set an example for the rest. Spartacus has seen many horrors since he arrived in Capua (and subsequently went on the run), but this might be the most crushing of sights. Far more frightening than any battle injury is the thought that all the effort the rebels have put forth has been for naught.
Elsewhere on Spartacus: War of the Damned, while the rebels have been attempting to find shelter and supplies, Crassus has been raising an army fit to challenge them, complete with a surprise visitor. His growing confidence, due in part to dispatching Cossinius and Furius and usurping their position as leader of the charge against the rebels, makes finding a place to set up camp even more important for the rebels. With Glaber having been defeated and the rebel army reeling off several victories in a row, the Romans will be sending everything they've got in an attempt to bring down the army once and for all and to keep their cause alive, the rebels need stability.
Spartacus: War of the Damned airs tonight at 9:00 on Starz.
Who will be the visitor who is welcomed by Crassus? Will Spartacus spare the woman who confronts him during battle? Did the rebel army need the harsh reminder of why they're risking their lives?