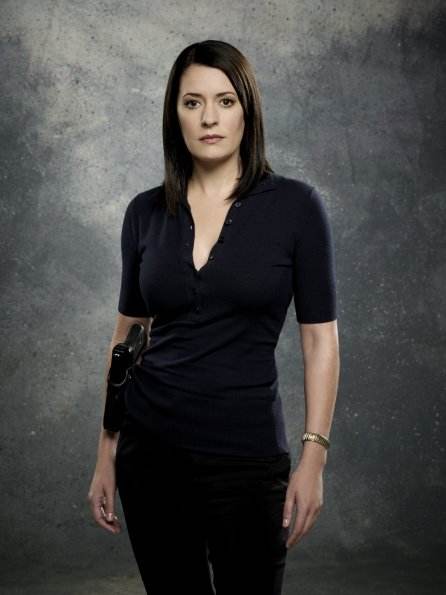 Criminal Minds | It's official! CBS has set the two-hour season finale for May 16th. And the episode, titled "Run," is sure to have everyone on the edge of their seat. An attack on a federal bank, a BAU member taken hostage, and the exit of Emily Prentiss (Paget Brewster) is just some of what you can expect. Plus, let's not forget about the villain. TVLine reports that Battlestar Galactica's Tricia Helfer has been cast as someone who, in her own words, is "definitely a bad character".
But if you're thinking the episode will leave us with a wretched cliffhanger, then you haven't heard about the surprise wedding. EP Erica Messer tells TVGuide, "They'll all have a really rough Saturday with a hostage situation and then a really lovely Sunday. To end a season on a happy note instead of blowing something up is very unusual for us." So who's getting married? Well, the news that we'll be meeting J.J.'s mother Sandy during the finale should help clue you in.
CSI | With all the murders and cases our team solves every week, we seldom, if ever, get the chance to look into their lives at home with their families. Well, make way for Meghan and Kaitlyn, Russell's daughter and granddaughter. Soon these two very important ladies in Russell's life will be dropping by to pay him a surprise visit. And we're hearing from E!Online, there's even a possibility we'll see them again in future episodes. I'm all for the writers bringing a little levity to CSI. How about you?
Especially considering this latest piece of spoiler news. The season finale "Homecoming", airing May 9th, is going to bring an old CSI enemy crashing back. Ex-Undersheriff Jeffrey McKeen (Conor O'Farrell), who you may remember killed Warrick in the season 8 episode "For Gedda," will make his return and threaten the team. The catch? TVGuide reveals that the show is also casting an actor to play McKeen's son. Hm, what could that be about?
Revenge | I know you're all getting antsy for the return of Revenge, but unfortunately, the next all-new episode, "Doubt," is still set for April 18th. I do, however, bring you a little bit of good tidings. A week earlier, on April 11th, you can still tune in for the special catch-up episode "From the Beginning". That is, if you feel like you're in need of a recap on everything you might have missed this season. Hey, at the least, it'll help make your wait a little less.
And the only other spoiler I have for you is the ongoing battle for Charlotte's soul. In the episodes leading up to the finale, she'll still be chugging down pills to cope with all the changes happening around her. As for whether learning Emily's identity will soon add to that mix, Christa B. Allen teases E!Online, "It could either be this amazing collaboration that happens where Charlotte starts to learn some of her ways and almost become an accomplice or an ally or Charlotte could be the next ice queen."
For more on Revenge and a look at the next episode "Doubt", check out a photo preview here and a promo here.