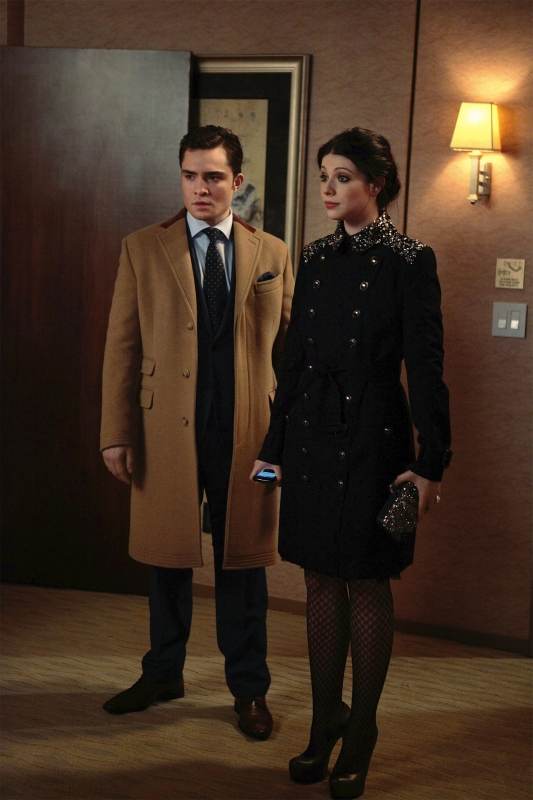 Gossip Girl | What's next for Georgina? By now we know that everyone's favorite bad girl returned in this week's 100th episode "G.G."(And she might also be Gossip Girl?!), but what we don't know is what other shenanigans she'll get into much later. For that, EW asked executive producer Josh Safran. 'The Valentine's Day episode is very fun,'Safran says. 'Georgina Sparks – you can't get more fun that than. She's here for a long stretch and whenever she's around it's super fun.'You heard him, guys. Georgina is here to stay.
And if you happened to miss the momentous 100th episode "G.G.", you'll definitely want to check out our review here to catch up on all that you missed.
Also, don't forget to check out a photo preview of next week's episode "The Backup Dan".
The Lying Game | Are Ethan and Emma going all the way? Word from E!Online is the pair are about to get a lot closer. In the Feb. 27 episode "Weekend of Living Dangerously," Ethan, Emma, Laurel, and Baz all head out on a road trip to Coachella. But soon the group find themselves staying overnight in a small town motel after their van suddenly breaks down, leaving Ethan and Emma with a room all to themselves. Ooh la la! Let's hope Sutton is nowhere to be seen this time.
The Good Wife | Who's returning to face off against Alicia? According to Huffpost TV, Mamie Gummer (Off the Map) is set to make her fourth appearance on the show as the deceivingly naive young lawyer Nancy Crozier. In an upcoming episode, Crozier will represent the family of a suicide victim against Lockhart/Gardner, forcing Alicia to fight fire with fire by bringing Caitlin (Anna Camp) onto the team.
But will this put Caitlin in Alicia's good graces? Not so fast. TVLine reveals that Caitlin's partnership with Alicia will quickly takes a turn for the jealous side once the blonde assistant starts getting a little too much credit. Zing!
And which Cheers alum will soon be presiding as a judge? Bebe Neuwirth, who played Frasier Crane's wife on Cheers and later his ex-wife on Frasier, has been cast in a recurring role as the sexy but stern Judge Friend, EW reports. Her first case involves the fight for control of a financial firm where matters get even more complicated when the witnesses for both sides appear to be lying.
Plus, what's ahead for Cary and Dana? Nothing good, according to TVLine. Following Dana's part in the Wendy Scott-Carr trainwreck, Cary will be asked to reveal the news of her demotion. But that's not all. Just wait until Peter finds out about the fling the two had last fall. He is not going to be happy.
Alcatraz | Will Rebecca ever let Doc in? You know what they say: Rounding up escaped convicts from the 1960s is the best at bringing people together. Seriously though, it's just a matter of time. 'I like that Rebecca is not quick to trust people,'star Sarah Jones admits to EW. 'But there's a relationship that's built. Sometimes they have a moment together and sometimes she pushes him away. It allows them to get to know each other and learn how to trust each other.'