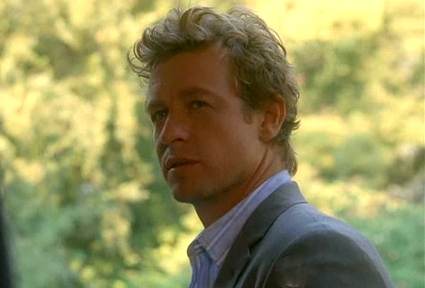 The Mentalist | What's this about Patrick Jane shooting someone? It's already been revealed that in the May 17th season finale, "The Crimson Hat," Jane "shoots one of his own," but costar Owain Yeoman has let a few more important details slip. He tells TVLine that the shooting promises to be 'a really, really big deal for us,'and the episode is sure to be 'our most action-packed finale to date.'
Luckily for Jane, a new character, a Vegas cocktail waitress played by Emmanuelle Chriqui, is rumored to come to his rescue. According to TVGuide, Loralei will appear in the season finale and also five episodes next season as Jane's new love interest. Creator Bruno Heller reveals to TVGuide, "It's certainly not a fling and it's not a spur-of-the-moment booty call or anything like that. She comes into Jane's life at a very, very low ebb. He's at a moment when he really needs a helping hand and a little ray of light, and she provides that."
Community | It's the death everyone's been talking about for months, and I can't say I'm surprised. I mean, we've grown to expect deaths on all of our favorite drama series, but now we need to be on our toes for our favorite comedy series, too? At least, it's beginning to sound like it won't be too bad. Yvette Nicole Brown tells EOnline that while viewers will be "shocked" by the death on the April 26 episode, "Basic Lupine Urology," they'll recover given enough time. That's right, Community fans, you won't need as many kleenex as you first thought.
And if you missed this week's episode, "Virtual Systems Analysis," you can catch our recap here.
The Vampire Diaries | The show really threw us for a loop recently when the writers revealed that killing an Original would then erase that entire bloodline. And, of course, the news has now left all our characters with a very big decision: Who's ready to sacrifice themselves for the greater good? Candice Accola summed up the May 10 season finale, "The Departed," pretty well to TVLine: "Everyone's going to be paired up [with an Original] and we're going to see who's willing.'But at the same time, if you're thinking there'll be a death in that episode, beware. Accola cryptically teases, 'It doesn't [necessarily] happen in the finale."
Meanwhile, Joseph Morgan was a little more forthcoming to Zap2it on the sure to be "epic" finale: "The last twenty seconds of the episode will leave people with their hearts in their mouths." And if that information wasn't alarming enough, he also goes on to say, "It's going to change the world of 'The Vampire Diaries' forever. You should be scared! I think not everyone's going to like it; it's going to provoke some strong opinions. It's really going to get people talking, and that's what we want." As of now, we have three weeks to mentally prepare, guys.
But first, in next week's episode "Do Not Go Gentle," Mystic Falls High will be hosting a 1920s Decade Dance. A photo preview of our dashing cast in costume can be found here.
Then on the May 3 episode "Before Sunset," it's going to be getting even crazier. Klaus has finally had it with Mystic Falls, and he's ready to leave town, which means taking Elena with him. A photo preview for this penultimate episode can be seen here.
Plus, don't forget to get caught up with this week's big Delena episode, "Heart of Darkness," by checking out our review here.
Person of Interest | I know I'm not the only one who gets excited when Joss Whedon alumni show up on other shows, so you'll definitely want to pay attention to this latest bit of casting news. TVGuide reports that Amy Acker (of Angel, Dollhouse and the newly released Cabin in the Woods fame) is set to guest-star on the May 17 season finale, "Firewall". And she may again be donning a lab coat for the occasion, as she'll play a psychologist for the rich and powerful who knows just enough secrets that someone is willing to kill her to keep them safe.