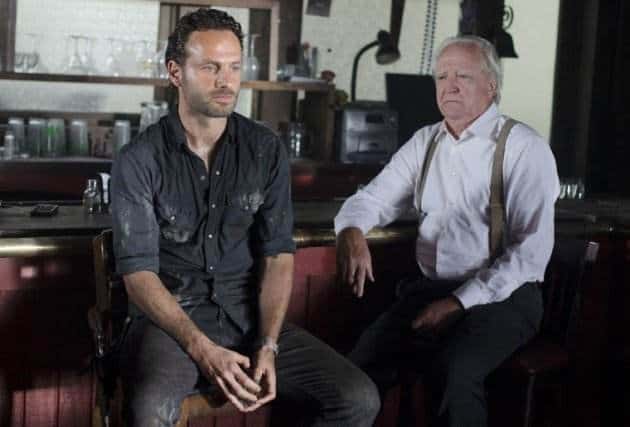 The Walking Dead | What's next for the survivors following the big barn massacre? Everyone's favorite zombie show finally returns this Sunday (on Feb. 12 with "Nebraska") and will pick up exactly where it left off, with everyone still reeling from what went down in the finale. Turns out, Hershel is the worst off and forces everyone, except one person, to leave his farm. Yet, it's who or what they discover next that will drive the rest of the season: "While Hershel's suffering this loss of hope and trying to deal with these problems, it actually leads us into a new threat and causes the group to encounter something very dangerous that will be an exciting element in the new half of the season," EP Robert Kirkman teases to TVGuide.
You can also now watch the first three minutes of the premiere here.
Plus, which main character may not be long for this world? Jon Bernthal, who plays Sherrif Deputy Shane Walsh, is reportedly in talks to star in Frank Darabont's new TNT series L.A. Noir, per Variety. Should he decide to sign on, it could be possible for him to continue on The Walking Dead. But rather, it's more likely they'll just do away with his character, especially considering his comic book counterpart passed away some time ago.
Smash | Who's going to quickly abuse their position of power? E!Online likens the cheap hookup in next week's episode "Callbacks" to if Glee's "Rachel schnockered Will on the casting couch," and that's a pretty accurate description if I say so myself. But don't expect it to be a one time thing as the secret couple won't be ending their affair anytime soon.
For a preview of the next episode, click here.
And what will Uma Thurman's role be in the upcoming musical? The lead, if she can get it. In the last third of the show's first season, she'll guest-star as a famous actor who's ready to take Marilyn away from the two underdogs who've fought for it for so long.
Once Upon a Time | Which tv/movie hottie is about to lead Emma down the rabbit hole? In a previous spoiler post, I reported that episode 17 "Hat Trick" would feature a new character named Jefferson, a former criminal in the fairytale world who will attempt to convince Emma that the curse is indeed true. But now, the word around town is Sebastian Stan (Captain America) has been tapped to play the handsome Jefferson as well as his, more well known, alter-ego the Mad Hatter.
So will Alice and Wonderland be coming to Once then? In a way. Along with the Mad Hatter, EW reveals that a certain talking caterpillar is also set to make an appearance, and that The Who's lead singer Roger Daltrey has been chosen to lend his voice over talents for the occasion. No word yet, however, on if this means more than the usual CGI will be involved. Still, how's that for trippy?
But first, don't miss the promo and some sneak peeks for this week's Beauty and the Beast-themed episode "Skin Deep" here and here.
And could season 2 of the hit series already be a go? It's no secret that ABC has been pretty happy with the ratings (they've even ordered some new fantasy pilots for next season), but now EW says that not only will we soon see the Evil Queen's mother as a guest-star in this season but also in a three-episode arc in the next season. It seems, provided that the show is renewed, Barbara Hershey (Black Swan) could be playing the Evil Queen's mother for some time to come.
Are we also getting a flashback of a young Snow White? According to Variety, Bailee Madison (Don't Be Afraid of the Dark) will soon guest-star as as a young and innocent Snow White in episode 18 "Stable Boy," coincidentally the same episode where we will also first meet the Evil Queen's mother. Even more curious though is the casting of Nikita's Noah Bean, per TVLine, as a handsome stable boy in fairytale land who believes in love so wholeheartedly he's willing to break through the barriers of his social station. Could he be the reason why the Evil Queen's so resentful of Snow White?
30 Rock | Who'll be looking for love this V-Day? The answer may surprise you. In the Feb. 9 episode "Hey, Baby, What's Wrong," J.D. Lutz decides it's about time he goes out on a date, and Tracy and Frank agree to show him the ropes. 'We just give him man to man advice on how to work with the ladies on Valentine's Day,'says Judah Friedlander to EW. Oh, the blind leading the blind.