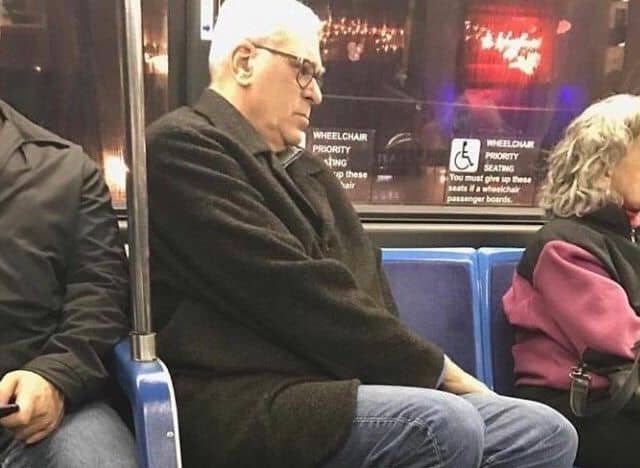 Phil Jackson has an extremely difficult time getting around.  I can say this from personal experience.  There was a time I stayed in the same hotel as Phil way back when the Lakers were playing the New Orleans Hornets in the playoffs.  Watching him walk was extremely depressing.  He's got a ton of problems in his back, feet, knees, you name it.  Sure he's the Zen master and he makes a ton of money but when you're in constant pain just from walking, it's gotta take its toll.
Then when you add on the Knicks season, the Charles Oakley incident, and working with James Dolan you could see why it might drive a person to riding the bus in NYC and wearing fluorescent green sneakers.  Does this look like the image of a man who is beyond is breaking point?  I'd say so.
I mean at least he can go home and roll around in his millions of dollars but that's not going to get rid of the pain.  I don't care how rich or how great a life a person has, I feel for Phil Jackson in this picture.  I also feel for public transportation in NYC.   That's two seats you're taking up pal.
WHY IS PHIL JACKSON ON THE BUS?? This photo will be great to use when he finally quits!!!! #knicks pic.twitter.com/xlbvRdCiio

— JRSportBrief (@JRSportBrief) February 16, 2017