[FLOWPLAYER=http://www.tvovermind.com/wp-content/uploads/2013/02/sub-215.jpg|http://www.tvovermind.com/wp-content/uploads/2013/02/SUB-215-Clip1.flv,440,280]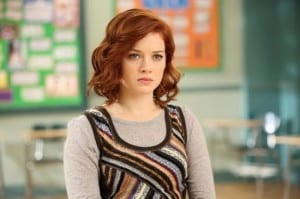 Last week on Suburgatory, Tessa found out that Ryan wasn't on the three-day road trip that she thought he was. All throughout the episode, she had been basking in how "great" her relationship was and doling out love advice accordingly, but once Lisa brought her back down to Earth, Tessa was forced to face that she and Ryan weren't perfect. While they made it through difficult events and both seem to want to be together on a more serious basis, she still doesn't know where Ryan really was for the past few days. What if the answer is something that she can't get over?
On the next episode of Suburgatory, Ryan tells Tessa the truth. He's been getting recruited by colleges to play football and he went on a series of campus tours over the past few days. The reason he didn't tell her is that he wasn't sure how she'd react to the thought of losing him to college next year. They've gotten very close in the relatively short time that they've been dating, but now, Tessa has to contemplate their future as a couple. Is she willing to get even more emotionally invested in Ryan and give a long distance relationship a chance? Can something that started merely as fun times with a cute boy who adores her turn into something real and lasting?
Elsewhere on Suburgatory, George and Noah are in charge of figuring out what to do with Marty's ashes after he passes away. Dallas suggests spreading them around the country club since that was Marty's favorite place, but will George agree to it?
Suburgatory airs Wednesdays at 9:30 on ABC. You can check out a recap of the most recent episode here.
How will Tessa feel about the possibility of losing Ryan to college? Can they stay together despite the distance? Where will George dispose of Marty's ashes?