[FLOWPLAYER=http://www.tvovermind.com/wp-content/uploads/2013/04/sub-220-copy.jpg|http://www.tvovermind.com/wp-content/uploads/2013/04/SUB-220.flv,440,280]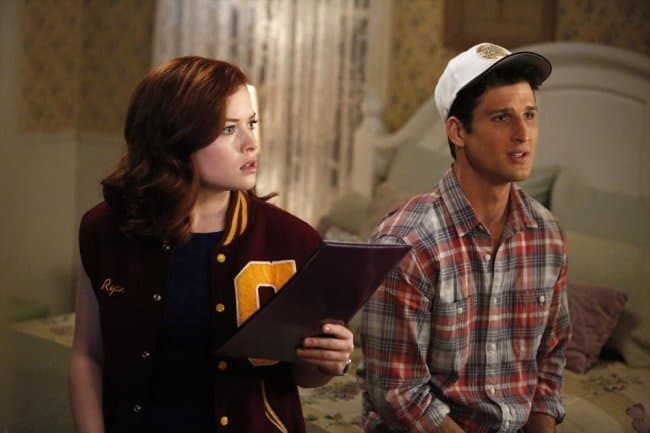 The end of high school tends to become almost exclusively focused on what happens after high school. Yearbooks are signed, summer plans are made, and those heading to college decide where they'll venture to and why. Some decide to stick close to home and make the transition into adulthood easier, while others are eager to get as far away from their town as possible, content to put as much road between themselves and their past as possible. But there's a third category that Suburgatory's Ryan Shay belongs to – people who have no idea where they're going and nearly let their window to decide close before making a move.
On the next episode of Suburgatory, Ryan is faced with the decision that strikes fear in the hearts of many a high school student. Only he doesn't want to be the one to decide his fate – he wants Tessa to be the one to pick where he ends up going to school. With a press conference signing day looming the following day, there's a lot of information to have to parse through in order to make a decision. How will the two pick between all the programing competing for a chance to sign The Body to an athletic scholarship? To cut down on the stress that'd come from closely comparing each and every school, it's been decided that every name will be placed in a hat and the one drawn will be where Ryan spends the next four years of his life. Not the most scientific of approaches, but hey, Ryan's never been much for science.
Elsewhere on Suburgatory, George asks Dallas to move in with him during a talk about finances, while Sheila becomes a realtor – and promptly sells the Altman house before it hits the market.
Suburgatory airs Wednesdays at 8:30 on ABC. You can check out a recap of the most recent episode here.
Should Tessa decline to choose and make Ryan figure out where he wants to go? Is she in trouble now that Dalia knows she rigged Ryan's decision-making process? If George and Dallas move in together, would that help or harm their relationship?
[cf]video_one[/cf]