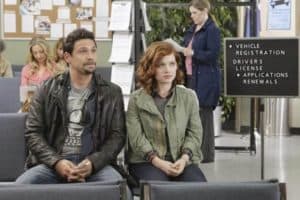 Suburgatory returns with all new episodes on Wednesday, January 4, and ABC has released some episode synopses with light spoilers for two upcoming episodes.
January 4, Episode 10 "Driving Miss Dalia": When Tessa gets her driver's license, Dalia hires her to drive her around to stalk her crush, Scott Strauss (guest star Thomas McDonell). As a result Tessa realizes that she and Scott might have feelings for each other. Meanwhile George and Noah's relationship is put to the test when George decides he wants to join the local country club. Guest stars include Edward Padilla as Javier, Katelyn Pacitto as Kaitlyn, Kara Pacitto as Kenzie, Abbie Cobb as Kimantha, Arden Myrin as Jocelyn, Jack Walsh as Marty, Thomas McDonell as Scott Strauss, Hayes MacArthur as Walter and Chris Parnell as Fred Shay.
January 11, Episode 11 'Out in the Burbs': When Tessa is asked to show new guy Josh Sherman (Dan Byrd) around school, she becomes convinced that he's gay, when in fact he's an undercover narcotics officer. Lisa becomes deeply infatuated with Josh, and Tessa inadvertly convinces Mr. Wolfe to make special announcement to the student body. Meanwhile George re-evaluates his relationship with Dallas. Guest stars include Ana Gasteyer as Sheila Shay, Parker Young as Ryan Shay, Chris Parnell as Fred Shay, Dan Byrd as Josh Sherman, Evan Arnold as Chef Alan and Chad Dashnaw as Dave Donsky.
Watch two sneak peeks below for the January 5 return of Suburgatory.
Want to know when your other favorite shows return in January? Check out our handy schedule of midseason return dates.