[FLOWPLAYER=http://www.tvovermind.com/wp-content/uploads/2012/12/sub-207-1.jpg|http://www.tvovermind.com/wp-content/uploads/2012/12/SUB207_fv1.h264HD-Clip1.flv,440,280]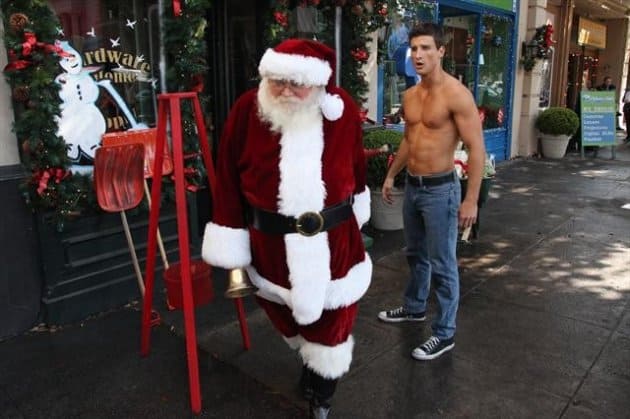 From the moment that Lisa found out about her brother being adopted, you knew that it had to come out sometime. The world of Suburgatory is a loud one and an open one and that inevitably leads to no secret being able to stay under wraps for too long. However, I don't know if anyone could have anticipated that Ryan's reaction would have left him shirtless with Santa Claus.
On the next episode of Suburgatory, Ryan finds out about the adoption while on a car ride with the rest of the Shay family. Ryan being Ryan, he jumps to the conclusion that nothing around him is real and he's not actually Ryan, hopping on top of the car, stripping off his jacket and shirt, and punching a light pole that hurts his hand as a result. After he manages to calm down, he'll likely be more hurt than anything, particularly at Lisa; the two might have had their differences in the past, but he's noticeably softened toward her in recent weeks and this type of "betrayal" could undo the progress that their sibling relationship has made. Until he's ready to go back home and face his parents, Ryan will have to find a place to go, as he can't wander the streets of Chatswin forever.
Elsewhere on Suburgatory, at the behest of George, Tessa spends time in the city Christmas shopping with Alex, while Dalia does everything she can to get Carmen to quit working for Noah and start working for her again. And by everything, I mean she makes a music video.
Suburgatory airs Wednesdays at 9:30 on ABC, though the show will be moving back to its original 8:30 time slot this spring. You can check out a recap of the most recent episode here.
Did Ryan react to the news about the adoption better or worse than you expected? Will Dalia's music video and desire to forego a new set of rims win Carmen back? How long will it take for Tessa to become more comfortable around Alex?
[FLOWPLAYER=http://www.tvovermind.com/wp-content/uploads/2012/12/sub-207-2.jpg|http://www.tvovermind.com/wp-content/uploads/2012/12/SUB207_fv2.h264HD-Clip2.flv,440,280]
[FLOWPLAYER=http://www.tvovermind.com/wp-content/uploads/2012/12/sub-207-4.jpg|http://www.tvovermind.com/wp-content/uploads/2012/12/SUB207_fv4.h264HD-Clip3.flv,440,280]
[FLOWPLAYER=http://www.tvovermind.com/wp-content/uploads/2012/12/sub-207-5.jpg|http://www.tvovermind.com/wp-content/uploads/2012/12/SUB207_fv5.h264HD-Clip4.flv,440,280]