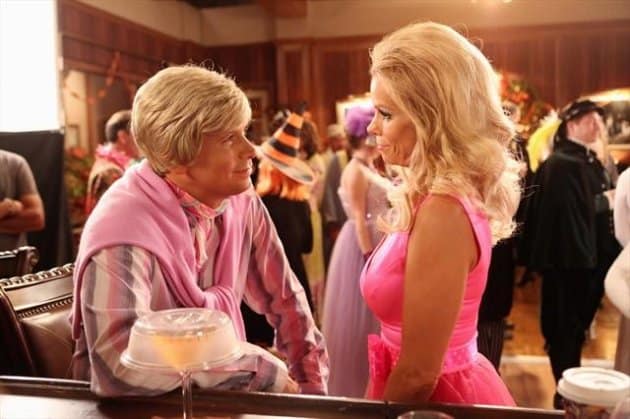 Halloween in Suburgatory is a time for the population of Chatswin to let loose. There may be some already over-the-top characters lurking around in sport utility vehicles and donning candy-colored track suits, but Halloween breaks the routine they've set for themselves and try something new on the final day of October.
The photos for the next episode of Suburgatory find the residents of Chatswin indulging in who they are (and who they want to be) by their choice in Halloween costume. Dallas and Dalia, going as Barbie and Skipper, respectively, don't differ a whole lot from their everyday wardrobe, going for the same type of bright colors and uber feminine look that they've become known for. George and Noah, meanwhile, are dressed up as each other, the former wearing preppy country club attire and drowning in pastels while the other is all facial hair and flannel. The two friends envy certain parts of the other's life and this occasion is a perfect way to (literally) walk a mile in the other's shoes, at least for one night.
Meanwhile, Tessa, Lisa, Malik, and Ryan decide to go for a theme this year, dressing as the gang from Scooby Doo. Unfortunately, there can be only one Fred, an issue that pits Malik and Ryan against one another, while Tessa and Lisa go as Daphne and Velma. Which one of the boys will give on being the leader of their group costume and who will he end up going as as a result?
Suburgatory airs Wednesday at 9:30 on ABC. You can check out my recap of the season premiere here, as well as sneak peeks from the next episode here and the TVOvermind Suburgatory discussion forum here. Be sure to click the arrows above to get a look at the episode.
Judging from the photos, who do you think has the best costume this year? Did you like Suburgatory's Halloween costume last year? What type of Chatswin urban legend would you like to see them portray in a hypothetical third season?