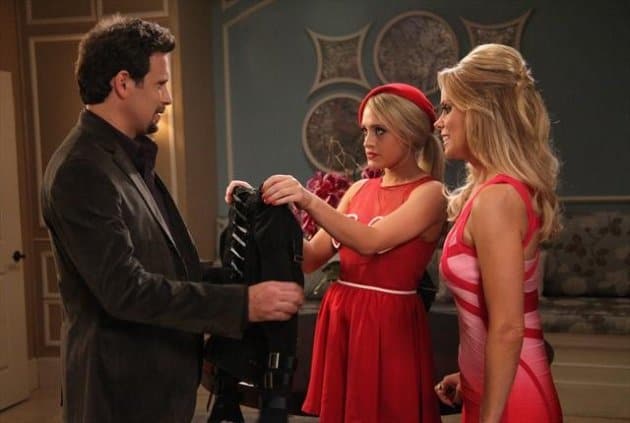 After dancing around the idea from the time they met one year ago, George and Dallas are finally embarking on their first date. It should be a time of great excitement; their relationship is evolving for the better and they no longer have to keep their feelings for one another a secret or watch the other date around. They seemed to be on the same page regarding their relationship at the Halloween party last week, but on tonight's episode of Suburgatory, it looks like there's still a certain amount of distance between them.
Dallas is letting her insecurity take over her pre-date emotional state and enlists multiple people in her life to help her relax. Unexpectedly, Dalia proves to be a comfort to her mother, punctuating a (hilarious) list of the qualities that George lacks in comparison to past beaus with kind words about how he "landed in the tall grass" now that he's dating Dallas. Dalia hasn't been the closest with her mother since around the time of the divorce, so if there was any way to boost Dallas' confidence, a compliment from her would do it. However, Dallas brings along another source of support on their date – her (unlicensed) life coach Tibetitha (guest star H. Jon Benjamin). George may know that Dallas is a little quirky and that life in Chatswin is very different from life in New York, but will he go along with the idea of having a third-party on an already anxiety-filled evening?
Meanwhile on Suburgatory, Tessa is babysitting baby Opus and comes across the Hillside Electrical Strangler, a man that's responsible for strangling…electrical problems in the area, while Lisa's being extra nice to Ryan out of guilty over the adoption issue. Will she heed his request for help in landing Tessa, or will that thought be the thing to cause her to tell him the truth?
Suburgatory airs tonight at 9:30 on ABC. You can check out a recap of last week's Halloween episode here, as well as the TVOvermind Suburgatory discussion forum here.
How do you think George's first date with Dallas will go? Will Ryan eventually figure out why Lisa's being nice to him? What other Chatswin weirdos will Tessa have to deal with while babysitting Opus?