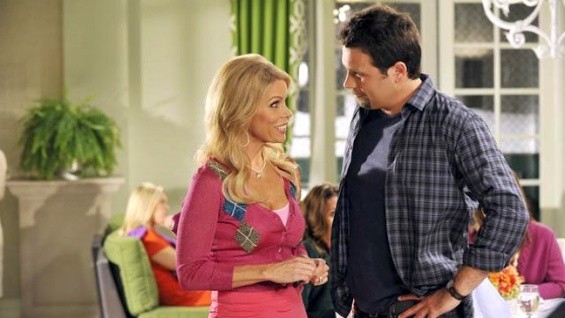 After taking the plunge and working out the initial kinks in their relationship, George and Dallas have hit a smooth patch where they can just be together. It's a feat that they even managed to find one another in the first place, but each needed to have a source of love, a companion in their life that they didn't have before they met one another in the pilot last season. They might still have a fair bit to learn about one another and their differences are still there, but for now, the Suburgatory couple is still going strong.
Listed below are the dates, episode titles, and episode descriptions of the first two post-hiatus episodes of Suburgatory.
Wednesday, January 9th – "Black Thai"
When Tessa and Dalia get their PSAT results, Dalia receives a new car and Tessa gets ice cream as a reward. Tessa is miffed that Dalia got a car, and becomes obsessed with finding out Dalia's score. The rift between the girls leads to an argument between George and Dallas, and the only thing that can help them is an old fashioned hip hop dance off. Meanwhile Noah and Jill hire Mr. Wolfe to tutor their baby after he's rejected by the finest day care in Chatswin.
Wednesday, January 16th – "Junior Secretary's Day"
When Tessa has her wisdom teeth removed, George struggles to manage both her recovery and the hysterics of their neighbor, Fred Shay, who has taken up residence in their basement after a career set-back. Sheila suspects George of harboring rats, and Dallas feels insecure about her relationship with George.
Suburgatory returns from hiatus January 9th at 9:30 on ABC. You can check out a recap of the winter finale here.
What have you thought about the second season of Suburgatory thus far? Do you think George and Dallas will be able to handle their first fight? Will Fred move back home with Sheila or will George continue to have "rats"?