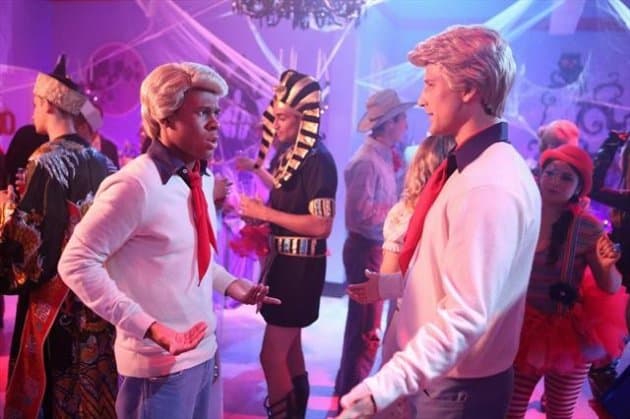 The adoption subplot of the Shay family seemed to resolve itself at the end of the second season premiere of Suburgatory. With the potting shed on fire and destroying any evidence of Ryan's adoption, Lisa, Sheila, and Fred had reached a decision – they weren't going to tell Ryan about the adoption for fear of him leaving and trying to find his birth mother. However, little did Lisa know, buried deep down in her psyche is a conscience that starts eating at her once she gets to thinking about how they're not letting Ryan in on the family secret.
Below are the dates, episode titles, and episode descriptions for the next two episodes of Suburgatory.
Wednesday, October 31st – "Ryan's Song"
When Lisa feels guilty for not telling Ryan that he's adopted, she agrees to help him pursue Tessa. Lisa's generosity leaves Ryan believing that he must be dying of "Ryan disease." Meanwhile George and Dallas go on their first date, but in her nervousness she invites her life coach, Tabitha (H. Jon Benjamin), to join them — which puts George off — and Tessa agrees to babysit for Opus while Noah and Carmen attend an opera.
Wednesday, November 7th – "Foam Finger"
When Dalia decides that her dad's fiance is her new best friend, the KKK (Kimantha, Kenzie and Kaitlyn) are lost without their leader and turn to Tessa and Lisa. As Dalia struggles with her emotions over her dad's elopement, she turns to Evan for support, and it's up to Tessa to help her regain her confidence and friends. Meanwhile, George and Dallas get intimate, but it's not really what George envisions.
Suburgatory airs Wednesdays at 9:30 on ABC. You can check out my recap of the premiere here, as well as the TVOvermind Suburgatory discussion forum here.
Do you think that Lisa will have to tell Ryan due to his reaction to her change in behavior? How will Dallas' first time with George go? Will Tessa relish her newfound power over the KKK?