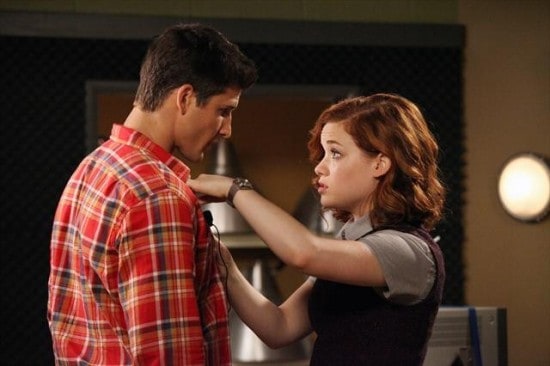 Tessa and Ryan may only be in the beginning of their relationship, but that isn't going to stop her from believing in her ability to maneuver through the delicate emotional terrain of other people's unions. Coming up on Suburgatory, the (formerly?) cynical city girl will begin to think of herself as a relationship expert, leading to an emotional moment between Mr. Wolfe and Chef Alan. Tessa isn't exactly experienced in the ways of love and on some level holds contempt for Ryan's (lack of) intellect, but can she help other people through their relationship problems and, hopefully, learn more about how to handle being with someone like Ryan?
Listed below are the dates, titles, and descriptions for the next two episodes of Suburgatory.
Wednesday, February 13th – "Blowtox and Burlap"
When Tessa convinces Ryan to attend an art house movie with her on Valentine's Day, their reactions to the movie surprise her. Sheila's mother, Gam Gam (Mary Kay Place), pays the Shays a visit, causing friction between Fred and Sheila. Her visit also spurs Sheila to try to get Malik back together with Lisa. Meanwhile, Dallas has a bad reaction to a cosmetic procedure, and George has to enjoy an 18-course meal from renowned Chef Julio (Michael Voltaggio) solo.
Wednesday, February 20th – "T-Ball and Sympathy"
When Tessa becomes a relationship expert, she gives advice to everyone (even people who don't ask for it). She decides to help Mr. Wolfe, and this leads to a sad realization about his relationship with Chef Alan. Meanwhile Noah and Dallas are still at odds, and George helps Dallas coach a T-Ball team.
Suburgatory airs Wednesdays at 9:30 on ABC. You can check out a recap of the most recent episode here.
How will T-Ball and Dallas mix? Will Gam Gam help get Lisa and Malik back together? Are Mr. Wolfe and Chef Alan heading for a breakup?