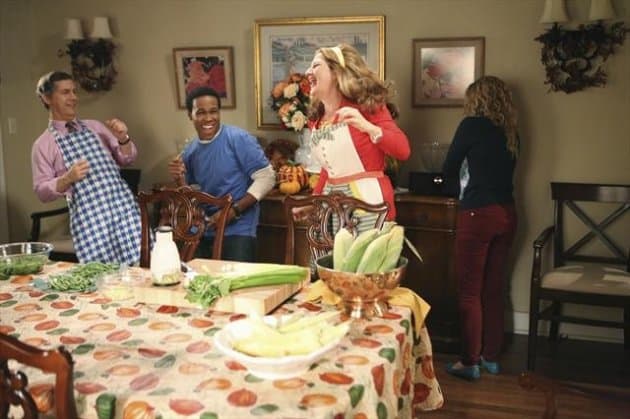 We've already celebrated Halloween in Chatswin this season and now it's the time to cut up a bird, be made to feel uncomfortable by your family, and then pass out on the couch in your track suit. It's a Suburgatory Thanksgiving, everybody, and this year, it looks like no one is getting spared an awkward holiday moment for the books.
Take George and Dallas, who will be spending their first holiday as a couple together. That might be an inherently tense event, as everything just has to go right and it never does, but more pressure is added by the fact that George wants to cook dinner. It'll be his chance to show off in front of Dallas and make their time together even better, except for the tiny matter that he can't cook. And Tessa will be in the city with her grandmother, so he loses the holiday spirit that he had and decides to call in Chef Alan to cater the get-together.
However, Dallas decides to fire Alan from the event and try to put the entire thing on herself, which would be a nice gesture…had George's ex-wife not shown up. The often talked about, occasionally heard, but never seen mother of Tessa Altman has entered the building, having forgotten that her daughter was going to be in the city for the holiday. Given that she's already there, Alex is obviously going to stay for dinner, but in doing so, any chance of George and Dallas having a quiet, uneventful first holiday together goes out the window.
Suburgatory airs Wednesdays at 9:30 on ABC. You can check out a recap of the most recent episode here, as well as the TVOvermind Suburgatory discussion forum here.
Are you ready to meet the woman who gave us Tessa Altman? How will Tessa react to being around her mother for the first time? Will George and Dallas be able to withstand all the emotions dredged up by Alex's reappearance?