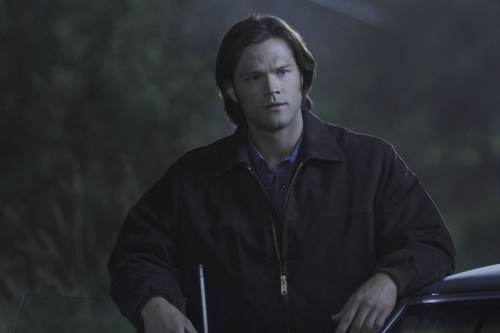 The most recent episode of Supernatural was certainly tense, wasn't it? Crowley is gone (nooooo!), Castiel has admitted that things aren't going so well for his side up in Heaven, Samuel is the worst grandfather in the history of families, and Sam has flat out told Dean that he's not going to getting his soul back no matter what.
Of course, Dean's not thrilled about that at all, which leads into the mid-season finale of Supernatural airing on December 10. Dean tracks down Death in order to help him retrieve Sam's soul. Death agrees, but only if Dean agrees to take over his job for a day. I'm not sure why, maybe Death needs a vacation? Tess also returns and it looks like she'll be training Dean on how to be a reaper.
Meanwhile, Sam will be going to extremes to ensure that his soul can't be returned to his body and will turn on Bobby (complete with an axe!) in order to perform a ritual. Below is a promo for the episode.
If you missed tonight's episode, read our recap and review.
DEATH RETURNS FOR A MEETING WITH DEAN

Dean (Jensen Ackles) seeks out Death (guest star Julian Richings) to help get Sam's (Jared Padalecki) soul back. Death tells Dean he will help Sam if Dean will agree to act as Death for 24 hours. Meanwhile, Sam decides he doesn't want his soul back and asks Balthazar (guest star Sebastian Roché) for a protective spell to keep his soul out of his body. Balthazar tells Sam he needs the blood of his father for the spell to work and since John Winchester is dead, Sam decides Bobby (Jim Beaver) is the next best thing. Mike Rohl directed the episode written by Sera Gamble & Robert Singer
clarissa @ tvovermind.com
twitter.com/clarissa373
twitter.com/tvovermind