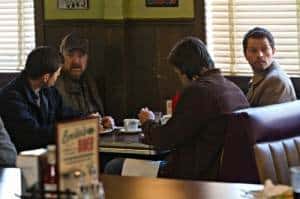 If you missed last Friday's Old West episode of Supernatural, then you definitely missed out on a treat. Read our recap and review to catch up.
Now we look to the future, which is basically the rapidly ending season 6 of the show. There's two more new episodes (on April 29 and May 6), and then the two hour season finale on May 20.
On the April 29 episode, Sam and Dean team up with Castiel and Bobby to take the fight to Eve, as Dean declared at the end of "Frontierland". Armed now with the phoenix ashes (courtesy of Samuel Colt), the four men head to a small town in Oregon to track down The Mother of All. After arriving, they learn that Eve has turned the townspeople into demons. Dying demons. Expect what's sure to be a bloody rampage of a fight between the demons and our intrepid heroes.
When the boys finally meet up with Eve in a diner, she decides to assume the face of Mary Winchester, which doesn't please the boys at all. We've already posted a trailer for the upcoming April 29 episode of Supernatural (view it here). Below we have a sneak peek for you, courtesy of The CW. You should recognize another familiar face: Amber Benson from season 2 of Supernatural. She's reprising her role as the vampire Lenore.
When you're done watching the video, go take a peek at the promo photos for the episode.
clarissa @ tvovermind.com
twitter.com/clarissa373
twitter.com/tvovermind