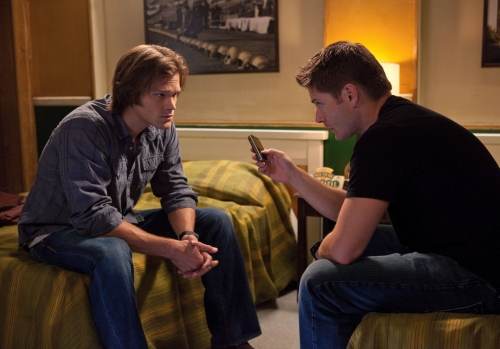 I miss Supernatural. The hellatus is officially upon us and now that we have to wait until January 28, 2011 for new episodes to return, I'm very sad. At the beginning of December we posted a short promo for the January return, which will feature a dragon. Yes, A DRAGON. Who happens to be going after virgins. In the TV Guide article (which contained more spoilers which you can read here), Gamble said the reason this creature has returned after all this time – in terms of the overall monster mythology – is a pretty big reveal.
Now the CW has released another short sneak peek for the January return. From what we see below, I'm going to wager a guess that Sam might not remember anything about the time when his body was walking around while his soul was still in hell. At least not initially. E!Online reveals:
There will be a Supernatural episode where Sam remembers the cases he was on when he came back from hell.
I've been very interested in finding out what happened to Sam in the year before he went to find Dean, so I'm hoping we'll learn more about what he was up to. As for whether (or, more likely, when) Sam will remember what happened to his soul in Hell, I guess we'll just have to wait and see.
If you haven't already read our midseason report card for Supernatural season 6, you can read it here. And check out a few new cast photos while you're at it.
clarissa @ tvovermind.com
twitter.com/clarissa373
twitter.com/tvovermind