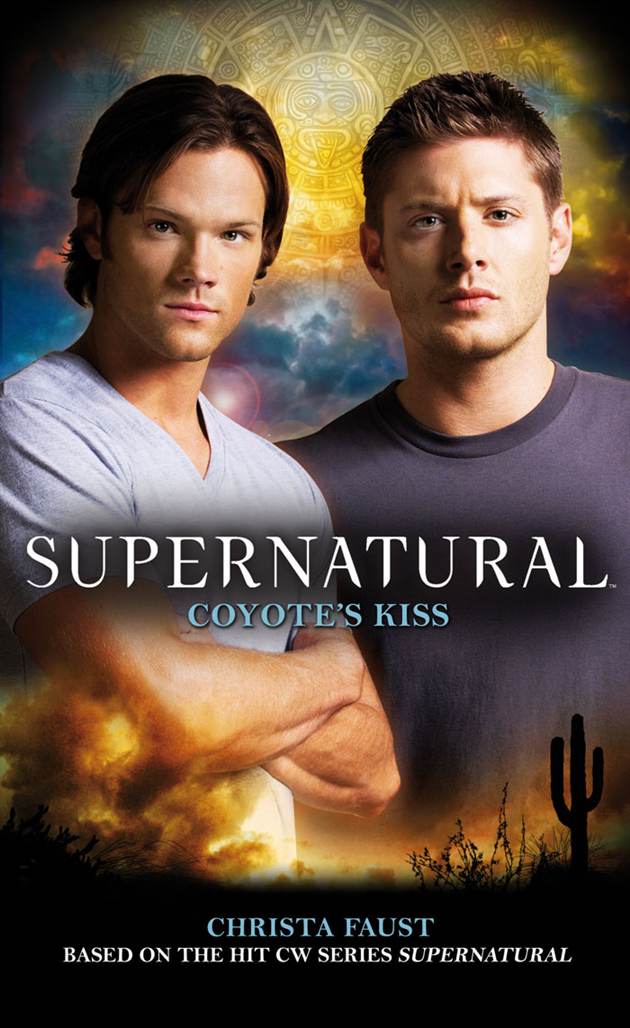 Basically, there are two types of Supernatural tie-in novels. The first are essentially one-off stories that involve Sam and Dean investigating a case where we generally meet new villains and victims we'll never see again. These can be hit or miss in terms of enjoyability. The second type are those like Rebecca Dessertine's book "One Year Gone" (read the review here), which I thought was distinctive because it really made an effort to fill in the blanks of the missing year before season 6 began, focused primarily on Sam and Dean, and was also very consistent with the characterization of the Winchester brothers that we know from the show.
Then came "Supernatural: Coyote's Kiss", by Christa Faust, the most recent Supernatural tie-in novel that's actually more like the first type. Only it's different because it's probably the most interesting of all the one-off cases explored in the books and contains characters that I actually grew to care about. In other words, I really liked this book.
"Coyote's Kiss" purports to take place between the season 6 episodes "Caged Heat" and "Appointment in Samara". Some of you may be thinking there's not enough time between those two episodes for "Coyote's Kiss". It doesn't really matter. The only thing that does matter in terms of timeline is the fact that Sam is soulless, Dean knows all about it, and the question of whether Sam's soul will be retrieved is mentioned in the book.
Basically, the boys stumble upon a very interesting hunt that begins with immigrants trying to cross from Mexico into the United States. When people start dying in an extremely violent manner (seriously, the book ups the gore factor) and a portion of a van literally disappears, the boys head to investigate. They soon meet up with an impressive female hunter named Xochi, who comes from a long line of hunters. Xochi is, by far, one of the strongest young female characters in the Supernatural universe. Yes, she's described as attractive, and Dean's into her from the start, but that doesn't diminish the fact that she rivals the Winchesters in their hunting and fighting skills, as well as the fact that she's obviously mature and knowledgeable. She has her own connections (which really help her and the Winchesters as they team up to fight their most recent foe) and her own tortured history involving her sister. Xochi's characterization doesn't feel cheap or rushed. I actually kind of wished we could see her on the show.
As the brothers and Xochi investigate a female creature known as a Borderwalker (who can travel between dimensions), they travel around the southern United States and into Mexico. The personalities of Dean and Soulless Sam are pretty consistent with the characters we know from the show. The backstory of the book's secondary characters are also interesting and sympathetic. The descriptions and scale of the monsters in "Coyote's Kiss" are impressive and probably too expensive for what we would see on our television, but coolnonetheless.
I think that fans of the show will be particularly receptive to this book. To read an excerpt that we previously posted, click here.
You can purchase "Supernatural: Coyote's Kiss" on Amazon
.
clarissa @ tvovermind.com
twitter.com/clarissa373
twitter.com/tvovermind