I've spent a fair bit of time in the last few months writing about online fandom, because it's a topic that holds a lot of interest for me. I started with some observations after the TV Guide cover poll and recently ended with the results of an online fandom survey we did in conjunction with a university student.
Supernatural won that survey, which didn't surprise a lot of people. It has a very passionate and devoted online (and off-line) fandom. So it shouldn't come as a surprise that when some members of the fandom got worried about the fate of one of their favorite characters – Castiel – after the recent season finale, they decided to do something about it.
If you were online after the two-part season 6 finale you might have noticed that some Supernatural fans weren't happy about the fact that their favorite angel had "fallen from grace", as it were, and was no longer going to be a regular character in season 7. First there were the tweets directed at the show's official Twitter and other actors/writers working on Supernatural. But after a while, the individual fans started getting more organized – and a bit calmer – and decided to come up with other ways to get their point across. One of them is the Save Castiel campaign. Another is the Letters to Castiel movement. These past few days I spoke to a key rep of the Save Cas campaign, people involved in the Letters to Cas movement, fellow writers and the owners of a few Supernatural fansites to try and get to the bottom of how the fandom feels about recent developments and what they'd like to see for the future of their favorite show.
Before we discuss, let's recognize one simple fact: we don't actually know what will happen with Castiel in season 7. Yes, showrunner Sera Gamble has said that Misha Collins will not be a regular next season. She also recently told TV Line about the desire to tell a new story for next season: "We just want to tell a good story and not be redundant and bring you interesting stories that are fresh. Going into Season 7, we have a new, interesting story that we want to tell to you. That's what's front of mind right now.'
None of that definitively says whether Castiel will die, exit the show in another manner, be redeemed in the premiere, become next season's big bad or have a storyline I haven't considered yet. All we do know is the official CW's description for next season: "In season seven, the Winchesters will find themselves in an increasingly sinister, changing landscape, up against a new foe unlike anything they've ever fought. They'll find their old tricks, weapons and hiding places all rendered useless. All they'll have is each other. And the certainty that, like the last of the cowboy outlaws, whatever they face, they're not going down without a fight."
But in light of the uncertainty, let me explain why some fans are fighting for his life.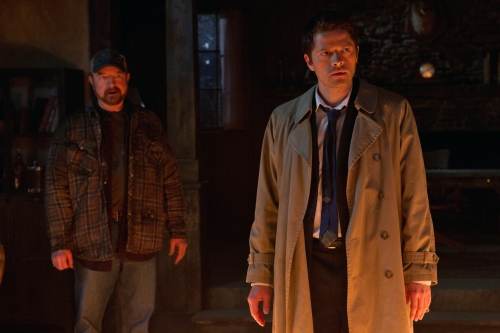 What 'Save Castiel' Wants to Accomplish
I spent an hour on the phone with Monica from the Save Castiel campaign, where we discussed our favorite angel, season 6 and character motivations. I always enjoy talking Supernatural with fellow fans, especially since so few of my off-line friends watch the show. The Save Castiel campaign would ultimately like Cas not to die (or leave the show). However, they have a healthy respect for the show wanting to tell its own story, so in the event that it is necessary that Castiel depart, they would prefer that it is in a manner befitting the character and his history. And that said departure be preceded by a "redemption" of the character that included Sam and Dean – particularly Dean – helping to "save" him and redeem him for his recent actions.
Nothing about the campaign, apparently, is meant to be an opinion on the contract status of Misha Collins. Clearly it's impossible to ultimately divide the actor and the character, but there's a line nonetheless. No one is asking that he appear in every episode or be reinstated as a regular.
Letters to Castiel
Some fans have decided to put pen to paper (or fingers to keyboard, as it were) and came up with a nice way to express their love for the character. The Letters to Castiel webpage was created by a fan named Megan.
I spoke to Monnie, who's been helping Megan with this project, and she took the time to tell me more about why it was started and how they put these letters in Misha's hands: "When Megan first started the Letters to Castiel website, I think she was just looking to have an outlet where online friends could go to express their feelings, to focus on what it is that we love so much about this character. I think at that point a lot of us were still struggling to come to terms with what had happened on the show, and when she told me about the site I jumped on the bandwagon of promoting it. I really don't think she or anyone realized it would get as big as it did. Once we saw how many letters were pouring in, I offered to Megan to have the letters printed out so that they could be given to Misha at the Supernatural convention in Nashville earlier this month. She and I got to talking, one thing led to another, and what started out as just printing the letters out & handing them to him became printing and binding and putting them into a fancy leather notebook. We wanted him to have a nice keepsake, something to help him understand and remember how much his character has affected us and how much he means to us."
Cas (and Misha) fans are not a small percentage of the viewers. There are a lot of people who love the character. That doesn't mean they would all stop watching if the character disappeared. Nor are they not "real" fans of Supernatural because they have a preference for one character over another, as Save Castiel's Monica assured me. But it is, sometimes, difficult to reconcile warring factions of the fandom. Which leads us to…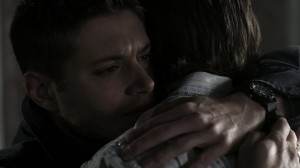 Opposing Sides: What's the Show Really About?
It's my experience that Supernatural can be a tricky fandom sometimes, with an occasional spot of in-fighting. You've got the SamGirls, the DeanGirls and the CasGirls. Then there are girls like me who love them all. But occasionally the fans will be upset about different aspects of the show: some Dean fans are miffed about what they perceive is a lack of a solid Dean storyline for the last little while, for example. In the end, though, it's important to remember that no matter which character you might like, this is a show that we all love, so there's no reason we can't all get along (won't someone think of the children?!).
But the issue of how Castiel fits into the show is actually a sub-sect of a much larger discussion on what (and who) the show is really about. No one really disputes the fact that Supernatural is the story of Sam and Dean Winchester. How can we, when they were the first (and will likely be the last) characters we see on our screens? However, I think many of us would be hard-pressed to deny that the show is only about the Winchester brothers. Since the first season there has always been a larger mythology, and goal, at work. First the boys were on a quest to find their father. Eventually they were working to save the entire planet.
If you really think about it, this show is technically about the entire Winchester family. If Mary hadn't died in the way that she did (whether it was to set up Sam as Lucifer's vessel or not), then there would be no justifiable reason why John raised his children to be hunters and you wouldn't have Supernatural at all. So the story is bigger than just Sam and Dean.
We have to recognize that in the course of the last 6 years, the Supernatural universe has grown exponentially. I'm not just talking about the fact that we've dealt with the existence of such grandiose beings as God and Death. No, let's go smaller than that. I'm talking about all of the people who have touched Sam and Dean's lives. People like Jessica and Bobby, Ellen and Jo. Hell, even the bad guys like Crowley. All of these people are fundamental to the Supernatural story and they should not be criticized for taking the focus from Sam and Dean. Because the truth is, they all interact with the Winchester brothers and they all, in one way or another, are integral to Sam and Dean's story.
Concluded on next page…