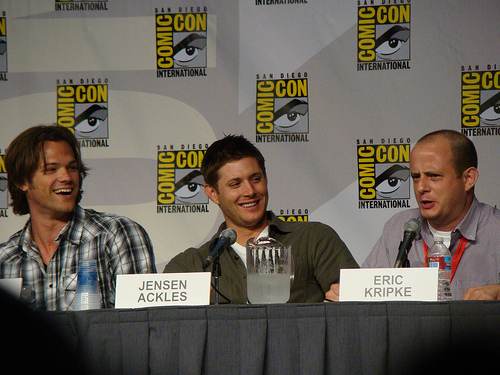 Despite Sam Winchester declaring "Nobody says penultimate!", Jim Beaver (Bobby Singer) has confirmed, via his twitter, some news using that word: current showrunner Sera Gamble has written the penultimate script for season 6, while Eric Kripke himself has written the season 6 finale.
One can only hope that all of season 6 has been a huge bout of misdirection and that Kripke will whip out the real big bad in the season finale: octocobra.
Okay, that's probably not going to happen (booo!), but it's good to know that the show's creator will be back to leave his mark on the season. I know a lot of fans were probably concerned when Kripke turned over the day-to-day running of the show to Gamble, and while season 6 has had some problems (primarily centered around the big bad), it has had some good stand-alone episodes. As we hurtle towards the two-hour season finale airing on May 20, we should get deeper into the overall mythology of the season. Beaver assures fans that Kripke has been involved in the decisions regarding season 6, but that the two-part finale should completely blow our minds and possibly even give us something we "didn't see coming".
Last time Gamble and Kripke had back-to-back episodes, it was the end of season 5. Gamble first introduced us to Death in "Five Minutes to Midnight" and gave us that terrific first meeting between him and Death in the Chicago pizzeria. Then Kripke wrote "Swan Song". Despite a lot of fans ragging on that episode, I liked it. I thought it was sweet and I loved the Chuck narration and I never fail to get a tear in my eye when Sam jumps into the hole. But thank God the show didn't end with Sam stuck in Hell forever.
Chances are the show will be renewed for a seventh season, even though The CW hasn't announced it yet. But in the meantime, we have what's sure to be an excellent two-part season finale to look forward to. The last time we had that was season 2 when Sam died and Dean made the deal with the Crossroads Demon. And that was an amazing finale, wasn't it?
So are you excited about this news? Did you check out a trailer for the upcoming episodes for Supernatural – which returns with new episodes April 15 – or the photos for the April 29 episode yet?
clarissa @ tvovermind.com
twitter.com/clarissa373
twitter.com/tvovermind