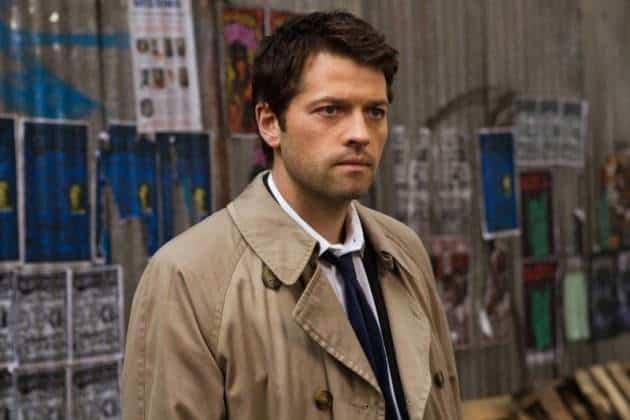 Misha Collins departed Supernatural at the beginning of episode 7.02. But before he walked into a lake and disappeared, the state of his character was in flux. At the end of season 6, Castiel opened the door to Purgatory and, for lack of a better term, ingested its souls. While he was able to put some back, the leviathan souls remained inside his vessel. They essentially "took over" Castiel's body, but his vessel was unable to contain the power of so many leviathans. He took a walk into the lake, "exploded" into black goo and the individual leviathans scattered through the water supply into their own host bodies.
That was the last we saw of our beloved angel on Supernatural. Now, however, we've been told that Misha Collins will be returning to the show in episode 7.17 and for two more episodes after that. When Warner Bros. confirmed Collins' return, they couldn't provide us with any more details about the circumstances of his return or even what character he'll be playing. Given what happened to Castiel just before he disappeared from Supernatural, that got me thinking: exactly who will Misha Collins be playing when he returns to the show?
HuffPost TV's Laura Prudom spoke to Collins shortly after the news broke and he could only give her a few hints about his return: "I can confirm that the character of Castiel is returning to Supernatural. I'm not supposed to talk about any details, but I will tell you this: The character is coming back somewhat changed." Of course, you have to take everything Collins says with a grain of salt, because the man is a world-class joker, so this leads to some wild speculation on my part about which incarnation of Castiel Collins might be playing. Let's examine our options, shall we?
Normal Castiel: The first option includes Collins returning as the Castiel we all know and love. In order for this to happen, all of the leviathans would have to had left Cas' body and left him…well, chilling on the bottom of that lake, I guess (sans trenchcoat, of course). This is probably the option the die-hard Cas fans are hoping for and if this were to happen, Castiel could once again join forces with the Winchesters to take down the leviathans. But I'm not sure how likely this option is, to be honest.
Leviathan Castiel: It's entirely possible that at least one leviathan was left inside of Castiel's body. This might be a good route to take because it will make Sam and Dean's struggle to take down the leviathans even more difficult if they have to face off against their old friend once again.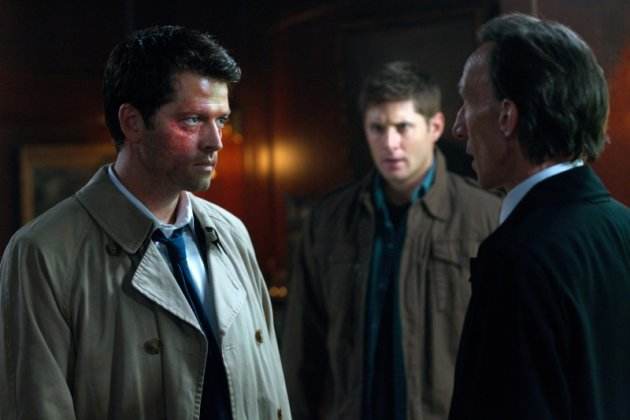 Super-Boss Leviathan Castiel: This is a bit of a twist on the option above. We know that Dick Roman is supposed to be the big guy in charge of the leviathans, but what if the real head honcho decided to stick around in Castiel's body and lay low until the end of the season? In our recent midseason review of Supernatural, it was mentioned that the show passed on a great opportunity to have Collins play the big bad of the season. Could that happen after all?
Amnesia Castiel: Here's another option that would allow Castiel himself to return, but still be slightly different. What if the trauma of hosting the leviathans' souls basically wiped out Castiel's memory? It might be interesting to see him meet the Winchesters once again, but without all of the history. Although fans of Cas and Dean's "profound bond" might not be too happy about this option.
Fallen Angel Castiel: If Supernatural decides not to go the amnesia or normal Cas route, there's a possibility that Castiel could "fall". In other words, the angel is now human. This would present a whole new set of challenges for the character.
Jimmy Novak: This is one crazy option that's floating around my head, although I think it's one of the least likely possibilities. What if Castiel's angel essence was expelled from his vessel's body and now it's just Jimmy left? Although, considering what that poor guy's body has been through since Cas was first introduced in season 4, I find it highly unlikely that his body could still be moving around without something supernatural inside of it.
Godstiel: I'm not talking about a super-powered version of Castiel here, like he claimed to be at the end of season 6. I'm actually talking about Cas becoming GOD. In other words, Cas' essence has been destroyed by the leviathans and God himself decides to take over his body and reunite it with the Winchesters in order to take down the leviathans. You can believe what you want about the character of Chuck, but I really do believe that he was God, at least in the season 5 finale. If that's true, then he at least helped to guide the Winchesters to their destinies. He may not like to interfere directly, but he could get back in the game as a character familiar to Sam and Dean.
So those are all of the options going through my head about how Castiel or some version of him could return. What do you all think? Vote in our poll below about who you think Collins will play when he returns to the show. Did I miss a possibility? If so, let me know in the comments below.
Don't forget, Supernatural is on hiatus, but returns with all new episodes on January 6. Watch a trailer for the return here.