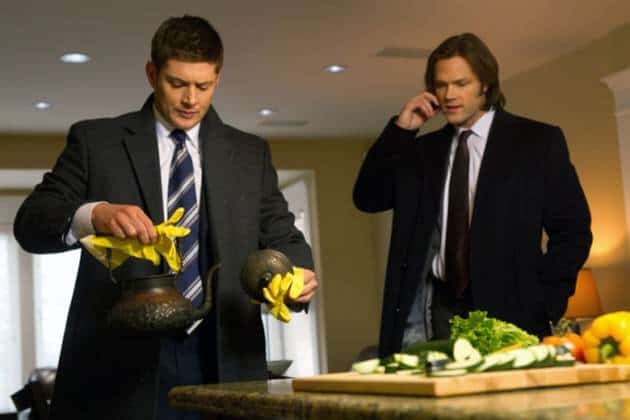 Things are not looking good for Sam on Supernatural. The show is currently on hiatus until March 16, which gives all of us plenty of time to worry about the trouble the younger Winchester will be in when the show returns.
In the last episode of Supernatural before the break, we learned that Sam has been seeing (and pushing away) Lucifer on a consistent basis. We may not have always seen it, but it seems like the Devil has always been trying to terrorize Sam's mind since the wall broke. During their recent case, Sam gave into Lucifer's constant demands for attention and finally spoke with him while trying to figure out how to save Dean. Now Lucifer has said that he's finally found a permanent foothold in Sam's mind and he has no intention of letting go. For more on the last episode, read our full recap and review.
When Supernatural returns on March 16, the boys head out on a case when a ballerina danced herself to death. As it turns out, her ballet slippers were cursed. Dean, of course, touches the shoes and the curse transfers to him. Ponder that for a moment. Dean Winchester possibly doing ballet. And we sincerely hope that this comes to pass. If it doesn't, there may be a riot.
You can also watch a trailer here, which includes scenes from the next couple of episodes.