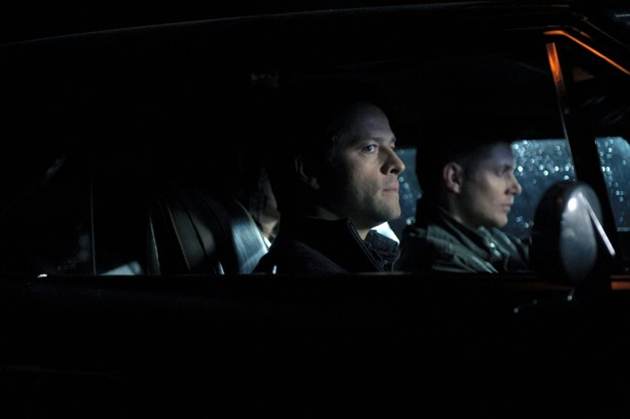 I know there are a lot of Supernatural fans waiting for these photos, particularly those who have been missing Misha Collins since his character, Castiel, exited the show back in episode 2 of this season. When we saw last saw Castiel, he had been "possessed" by the leviathans. Despite attempting to expel them back into Purgatory, Cas was unsuccessful. But his human vessel couldn't contain the power of the leviathans inside of him and he was starting to fall apart. Instead of disintegrating, he walked into a lake and…we think…exploded into black goo (ie. the leviathans). Castiel's trademark trenchcoat floated to the surface and that was the last we saw of the angel.
But no one ever really stays dead on Supernatural, so the show is bringing Misha Collins back for the first of at least three episodes on March 23. His return episode, titled "The Born-Again Identity", features not only Misha's return, but also another guest appearance by Mark Pellegrino as Lucifer. Lucifer is once again wreaking havoc on Sam's mind, finally driving him into a mental hospital. Dean is, of course, desperate to save Sammy, so he uses his hunting contacts to see if he can find a solution. Much like the episode "Faith" in season 1, Dean is finally told about a healer who might be able to help Sam. Lo and behold, this healer just so happens to be Misha Collins. Well, Castiel, apparently. According to what Misha told TV Guide, Castiel will be returning, although he will be different. In addition, a transformative storyline for Cas will be kicked off at the end of this episode.
Guess who else is making a return appearance? You'll see a certain demon driving in the back of the Impala with Castiel and Dean! Hint: it's not Crowley.
Are you happy about Misha's return? Do you think Castiel will be able to save Sam? We sure hope so!
Check out our new Supernatural showpage. We've put all of the sneak peeks, previews, recaps, photos and spoilers for the show in one convenient space!