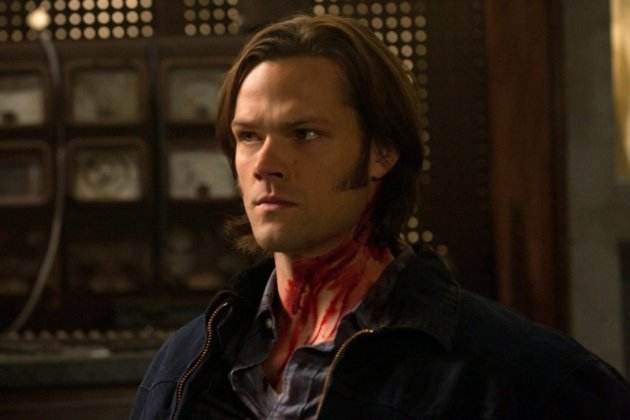 I'm not going to lie. I'm still reeling from the midseason finale of Supernatural at the beginning of December. And while most people are convinced that Bobby is officially dead, I hold out hope that he's at least in a coma with zero brain activity and will somehow – some way – be revived. For more details about the midseason finale, read our full recap and review.
When Supernatural returns from its hiatus on December 6, the fallout from "Death's Door" will immediately be felt. The CW hasn't revealed whether or not Bobby is dead, but they have indicated that Dean is very upset about what happened to his father figure and becomes obsessed with taking down Dick Roman at all costs. This promises to be both action-packed and dangerously hot. There's nothing more attractive than a very focused Dean.
Meanwhile, Sam's storyline seems to give the episode its name, "Adventures in Babysitting". When a hunter goes missing, Sam steps in to help the man's teenager daughter find him. He learns that the hunter was last seen at a truck stop, so Sam heads there, only to learn that one of the employees (played by Once Upon a Time's Meghan Ory) is not what she seems. In other words, Sam comes across some nasty vampires.
The trailer for the January 6 return of Supernatural (view it here) seems to contain scenes for "Adventures in Babysitting" and also the next episode, titled "Time After Time", which will feature Dean heading back in time to the 1940s, where he'll meet up with a character played by The X-Files' Nicola Lea.
For the January return dates of other CW shows, click here.