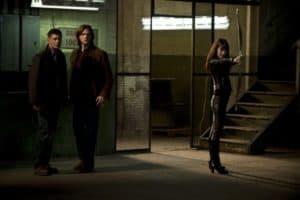 Back in season 5 of Supernatural Sam and Dean stumbled across a meeting of pagan gods.  In season 8, the Winchesters are taking on the mythical Greek gods and it seems like a slew of them – including the boss man himself – are coming out to play.
The episode is titled "Remember the Titans" and the brothers are investigating a possible zombie case where a man dies and continues to revive himself each day.  If you remember your classical mythology lessons, this man sounds a lot like Prometheus, the Titan who was punished for stealing fire from the gods and giving it to humans.  For this transgression, Zeus had Prometheus chained to a rock for all eternity with a bird pecking out his liver each day, only for it to grow back and the torment to start anew.
Sam and Dean soon realize something beyond a simple zombie situation is going on when this man is attacked by the goddess Artemis (complete with her trademark bow!).  Even Zeus makes an appearance in the episode.
Click the photos below to browse through pictures for the February 27 episode of Supernatural on The CW.