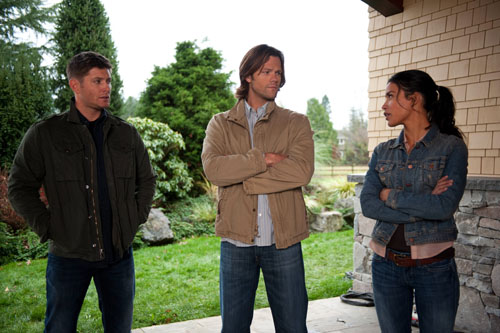 Kevin will have a breakthrough with the Demon Tablet in an upcoming episode of Supernatural and it will set off a chain of events that could have a large impact on the Winchester brothers.
In "Trial and Error", Kevin finishes decoding his piece of the tablet and he gets the instructions on how to close the Gates of Hell.  But he tells Sam and Dean that there's a catch: someone must face a series of three tests designed by God in order to close the Gates forever.  In other words, God's making you earn this.  The first trial is to kill a hellhound, a creature that obviously has a lot of bad memories for both Dean and Sam since that was the thign that killed Dean before dragging him off to Hell.  But the brothers are heros and are determined to close the Gates, so they argue over who should complete the trials.
Visit our Supernatural page for spoilers, sneak peeks, reviews and more.