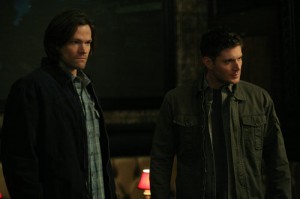 Kevin had a breakthrough with the Demon Tablet in this week's Supernatural and discovered that closing the Gates of Hell involved a relatively easy Enochian spell…provided someone first complete three trials of Herculean quality.  The first trial involved killing a hellhound, so Dean cleverly suggested they simply find someone whose crossroads deal was coming to an end and bag themselves a Hell dog.  They managed to find the Cassity family – a family who had mysteriously struck oil ten years before.  But despite Dean's insistence that he would complete the trials to spare Sam from inevitable death, Sam bagged himself a hellhound when he saved Dean.  Read our full recap and review here.
It looks like we're going back to a stand-alone case next week when the brothers have to decide whether to help save a witch.  They're going to revisit some personal history that the audience hasn't seen before when we're introduced to a police officer named Kevin, who turned to witchcraft after working on a case with Sam and Dean.  Now Kevin is plagued with horrible nightmares of killing people and when they start coming true, Kevin's "familiar" asks the brothers to help him.  But will they believe that Kevin is an innocent pawn in this or is there something more sinister afoot?
Watch a sneak peek for this episode.
Watch a preview below for the February 20 episode of Supernatural on The CW.
Visit our Supernatural page for spoilers, reviews, sneak peeks, photos and more.
http://youtu.be/_g7DIFuaNlA