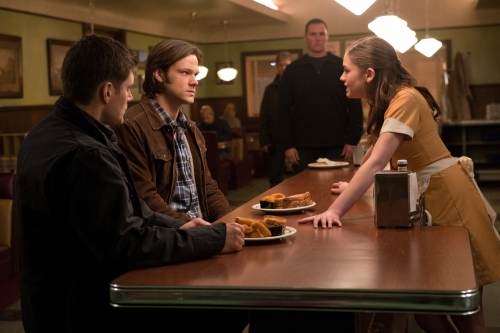 What an episode of Supernatural we were treated to tonight! Sam and Dean's trip back to 1861 Wyoming was full of brotherly banter, our first look at an iconic Supernatural character (Samuel Colt) and some more information on the war in Heaven and the power of souls. If you missed the episode, you can read our recap and review here.
The next new episode, airing on April 29, will have Sam and Dean finally meeting Eve face to face. The Winchester brothers, along with Bobby and Castiel travel to Oregon to track down The Mother of All. After arriving in town, the boys discover a horrible fact: the townspeople have all become demons. But there's a twist: all of these demons appear to be dying.
Eve finally meets the boys in person while posing as a waitress in a diner and brings back a very unwelcome guest: Mary Winchester. As a demon. Of course, the brothers are not happy to see the face of their mother as such an evil creature.
We're counting down to the end of season 6 of Supernatural now. After the April 29 episode, there's another new episode on May 6 (view photos here), and then the two hour finale will be airing on May 20 (there will be no new episode of Supernatural on May 13, due to the two hour Smallville series finale). All of our fingers are crossed, I'm sure, that the show will be renewed for a seventh season, and I hope we'll hear that news within the coming weeks.
Check out the promo below for the April 29 episode. Then go take a peek at promo photos for this episode.
clarissa @ tvovermind.com
twitter.com/clarissa373
twitter.com/tvovermind